"If you hear a voice within you say you cannot paint, then by all means paint and that voice will be silenced." – Van Gogh said once and there's no better place for that than in the Burren!
Although there's so much uncertainty nowadays, it's time to say yes: to painting, drawing, photography, walking, printmaking, bookmaking, whatever it might be that you've been longing to do for a long time. This year more than any other time before, we all crave time to do the things we love, to enjoy playing with those colours, to snap that landscape photo or to sketch that sunset in your book.
A week-long workshop will help you do just that, feel refreshed, inspired, confident and relaxed. You will be working in professional artist studios available 24 hrs, surrounded by like-minded people, guided by experienced tutors and immersed in the natural beauty of the Burren. You will be nourished by homemade locally produced food and you will love the banter on campus. New friends and new ideas will make you want to return and enjoy your artist holiday in the Burren all over again.
Give it a go and you'll agree with Van Gogh…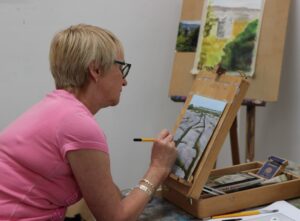 Please choose from the workshops below:
by Ida Mitrani
16th -20th August 2021
This workshop is now fully booked
16th –

20th 

August  2021
16th – 20th  August 
2021
by prof. Timothy Emlyn Jones
16th -20th  August 2021
by Ruby Wallis
16th -20th  August 2021
by Jane Glynn
16th -20th  August 2021
PLEASE NOTE: Once you've submitted your application, you should immediately see an acknowledgement page confirming the submission.  If you do not see this, please contact Julia Long at julia@burrencollege.ie to make sure your application has been received by the College.
All tuition and fees are due at least 4 weeks before the start of the programme. The Burren College of Art accepts no obligation to refund any fee or part of after this date.
NOTE: Our college self-catering accommodation is now fully booked during the August workshop session. If you wish to be added to a waiting list, please contact julia@burrencollege.ie
Alternative options are available in various guesthouses and hotels throughout Ballyvaughan.
For further information, please go to www.discoverballyvaughan.com. 
Our self-catering college accommodation offers 11 rooms in the Lodge and 4 bedrooms in the adjacent bungalow. Single occupancy is charged at €45 per night. Please inquire separately for twin or double occupancy.
The Lodge is set on extensive grounds with inspiring views of the Burren and is a pleasant 10 minute walk from the College and 35 minutes from Ballyvaughan village. The bedrooms are bright and well appointed. Communal areas include a large living room with an open fire, dining room, TV area, well-equipped kitchen, laundry and public washrooms. A patio area with chimney is an ideal outdoor summer gathering space. The Lodge has WiFi throughout and has wheelchair accessible rooms available.
The Bungalow is adjacent to the Lodge and has 2 en suite double bedrooms and 2 single rooms with a shared full bathroom. The house also has a spacious communal area and cozy sitting room, along with a fully equipped kitchen and laundry facilities.