CREATIVE EDUCATION SYMPOSIUM | SEPTEMBER 19 - 22, 2018 | BURREN COLLEGE OF ART | BALLYVAUGHAN
A Process for dealing with Complexity
This is a disruptive moment in education when the historical focus on knowledge transmission gives way to the centrality of student agency in a process of life-long learning for a world in transition.  In offering a common vision and principles for the future of education, the OECD's recent Learning Framework for 2030 draws attention to a world that is increasingly volatile, uncertain, complex and ambiguous.  Confronted with the challenges of environmental, economic and social disruption it asks how educational systems can 'develop the knowledge, skills, attitudes and values that today's students need to thrive and shape their world effectively?'  Meanwhile PISA tests for measuring creativity are being explored.
This challenge is being experienced across the Irish education system in the accumulation of initiatives and innovations which can sometimes feel overwhelming for those at the coal-face.  The junior cycle reforms are well under way and senior cycle reform is in the offing.  A Transitions Group has been considering the challenges at the threshold between the 2nd and 3rd levels.  A Creative Schools initiative is being launched in September while Ireland's first technological university is likely to be born around the same time.
Meanwhile, Irish society continues to value and takes a huge interest in the education of its children.  There is a sense of possibility in the air and a declared ambition to create the best education system in Europe by 2026.   Seasoned observers assert 'it is a good moment in education'.  The capacity of the system to reset is powerful.
Of course old structures, old mind-sets and old habits die hard particularly when confronted with the inevitability of change as the educational ground shifts beneath our feet.  The pervasive presence of mental health challenges among student cohorts remind us that the system is not working well for many and not just for the non-academic male.  School managements and teachers report overwhelm at the increasing volume of social problems they encounter in the classroom as well as the waves of initiatives, both curricular and non-curricular, that they have to grapple with.
So, while we know and can sense the direction of travel that is needed, how do we accommodate the challenge of disruptive change in a system as inherently conservative and complex as education?  How do we make the journey to a system that is both rewarding for teachers while meeting the needs of active learners?  How do we create the collective will and understanding that will allow us to transition from the familiar through the chaos of change to the envisioned future?
Where's the Beef?
'Towards a more creative Education System' does not propose any ready-made answers to these questions.  Indeed the complexity of the challenge does not allow of any easy prescriptions.  What the symposium does offer is a simple but powerfully-designed process for engaging system's change.  Expected results, based on accumulated experience with such conversations, include transformed mind-sets, fresh insights, the making of new connections and, most importantly, the catalysing of new initiatives in the direction of the more creative education system that is the title of the symposium and the imperative of the moment.
For those who expect a clearer answer to the 'where's-the-beef' question this may be disconcerting.  However learning to work with ambiguity and uncertainty is part and parcel of the new reality of disruption and discontinuity for which the education system will need to equip our children and which educators themselves need to model.  We hope you are up for the challenge and will join a group of some fifty or so fellow adventurers in this creative and exciting journey towards a more creative education system.
Making the time for Systemic Reflection
Participation does entail a significant time commitment from arrival/reception in Newtown Castle on Wednesday the 19th to departure on Saturday afternoon the 22nd.  However, the evidence of past highly successful 'audacious conversations' confirms that impact and effectiveness are crucially dependent on taking the time and space necessary for fresh insights to incubate and commitment to action priorities to emerge. The bonus is that participants can enjoy a refreshing break while having a rare opportunity to work more creatively and effectively than is possible in everyday life on complex and important issues.  An added bonus is the opportunity to interact with a wider spectrum of interests and perspectives than are normally encountered in other contexts.  The symposium is also an answer to the widely-held belief that the system is insufficiently self-reflective and lacks the capacity to sustain a conversation.
DOCUMENTATION FROM THE CREATIVE EDUCATION SYMPOSIUM 2018
Resources for symposium participants
Syposium at BCA – "Preparing for the Citizens Assembly on the Future of Education"
Online Symposium – "Towards a More Creative Education System: Creating a Movement for Change – Going Deeper' – November 2020
Online Symposium – 'Towards a More Creative Education System'- October 2020

2nd Symposium on Creative Education – September 2019
Continued Engagement
Symposium Documents & Video Contributions
Background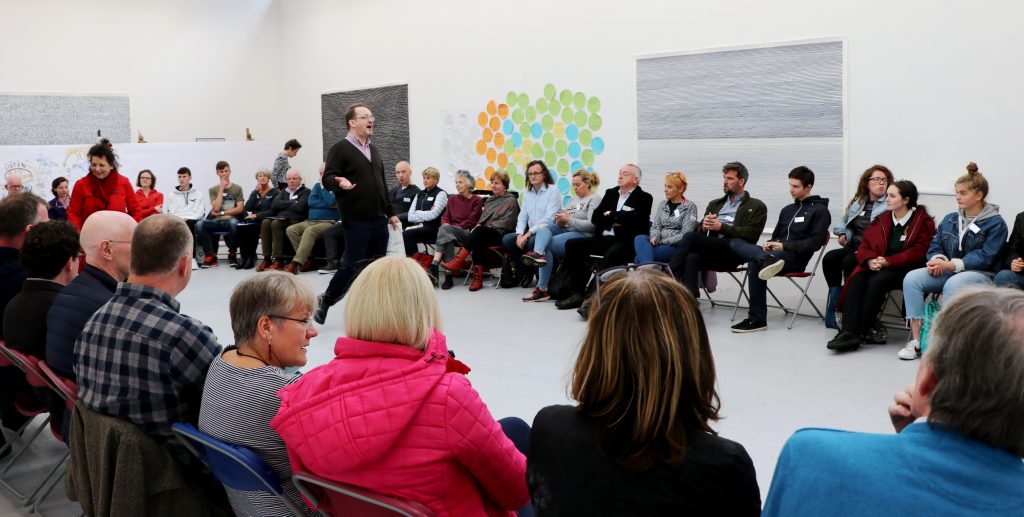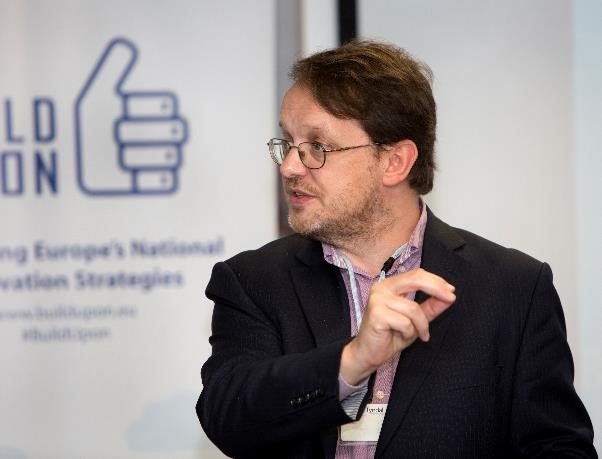 Chris Chapman
Chris is a leading creative facilitator of large and small events, both in Ireland and internationally, who has worked widely across the public sector in Ireland.
Chris has a particular strength in working with diverse complex systems and so-called 'wicked' problems, helping people to gain fresh perspectives and to find positive engaging ways forward.
Chris is a leading member of the global community of practice The Art of Hosting and is working with the  Authentic Leadership Center at Naropa University, Colorado on the development of their leadership programs in Europe. He has an MSc in Change Agent Skills and Strategies from the University of Surrey Business School, focussing on the interface between personal, organisational and societal change.
Esther Blodau
Esther is a Graphic Recorder based in Ireland and Berlin. (Graphic Recording is a tool used to visualise information at conferences, workshops and in other participatory processes, whereby artists draw, listen and create large conversation maps during the event. See examples here. )
After attending school in Ireland, Esther studied architecture and urban planning at Cornell University, USA (B.Sc.) and at the Bauhaus University in Weimar, Germany (M.Sc.). Since 2010, she has been working as a community planner in Berlin, Germany and has facilitated many community development and participatory processes.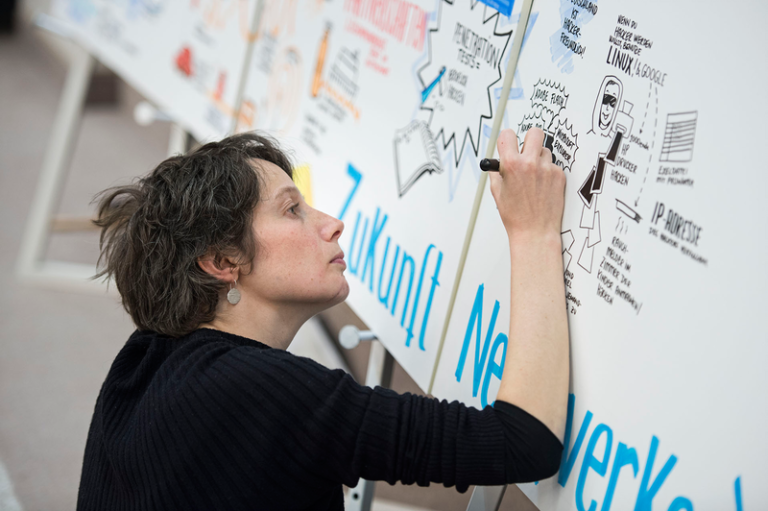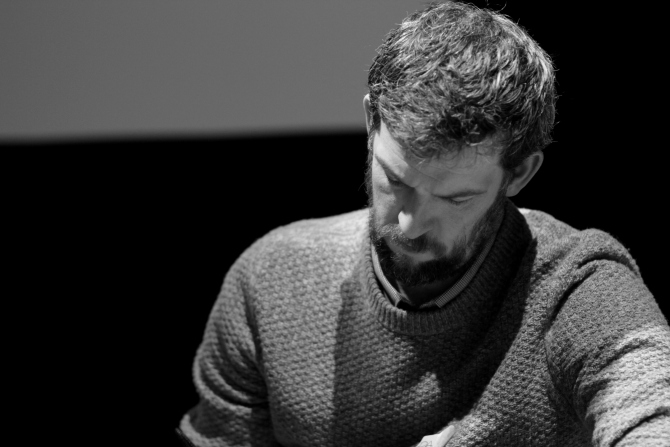 Paul Gorman
Paul is Creative Director of Hidden Giants an education consultancy agency, that collaborates with teachers, practitioners and policy makers and supports schools to re-imagine their curriculum by placing disruptive, creative and critical thinking at its heart. Hidden Giants is contributing to the emerging body of current academic research which argues that Creativity and Creative Learning are both highly successful at raising pupil attainment, and support children and young people to develop the skills needed to be active participants in shaping their communities and wider society.
Paul has a BA in Community Arts and over 20 years of experience of working in the cultural and learning sector, in Scotland and internationally, as a freelance practitioner, creative adventurer, project manager, lecturer, fundraiser and now strategist.
Valerie Jackman
Valerie Jackman is an experienced educator, a skilled facilitator, a creative catalyst and an enthusiastic collaborator. Valerie is deeply passionate about learning and personal development.
Her own education has taken an unconventional route. Leaving school in Ireland after Secondary level, Valerie has accumulated a wealth of professional accreditations and academic qualifications over three decades, while working full-time, and bringing up three children. Valerie has worked as a lecturer for seventeen years and served as a member of the Academic Council at Edinburgh College.  She is now Chair of the Board at The Broomhouse Centre – a charity that supports young people through a number of different projects. Valerie's innovative 'U-Explore' programme for young adults, operating 'in-between the lines' of the vocationally-focused Scottish Further Education college sector is the subject of a forthcoming book chapter in an edited collection of progressive education case studies.
Currently, Valerie is a Core Team member of 'U Lab Scotland', working with Dr Otto Scharmer from Massachusetts Institute for Technology (MIT) and the Scottish Government to support people-led transformational change across public services in Scotland.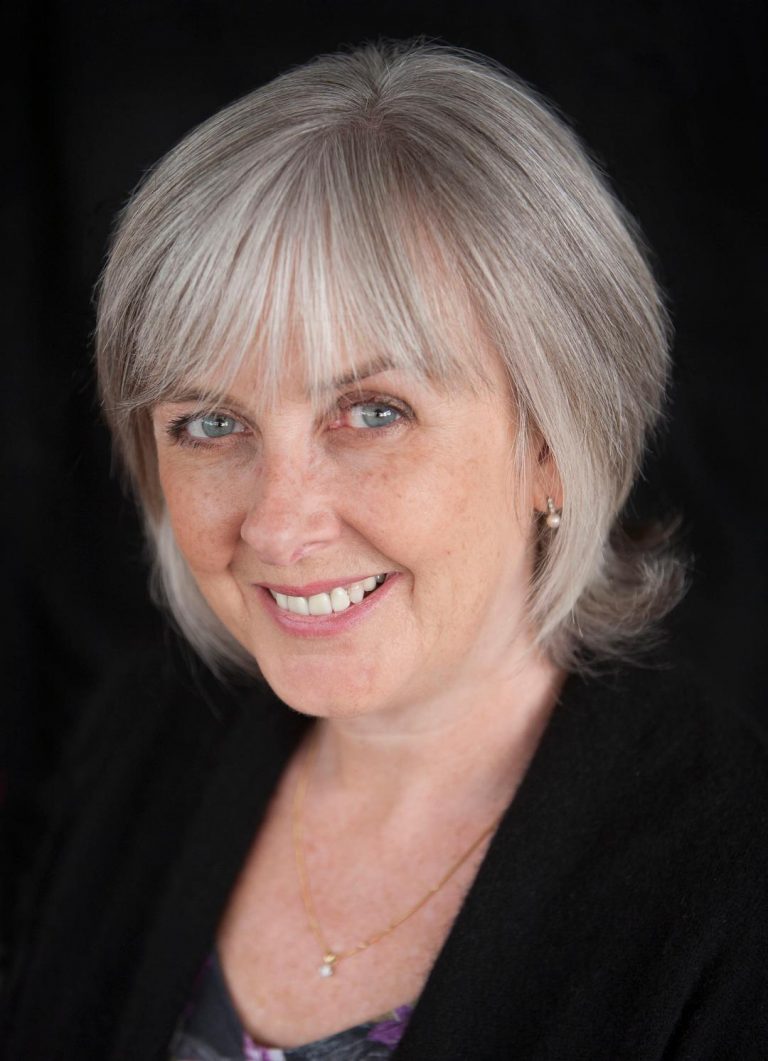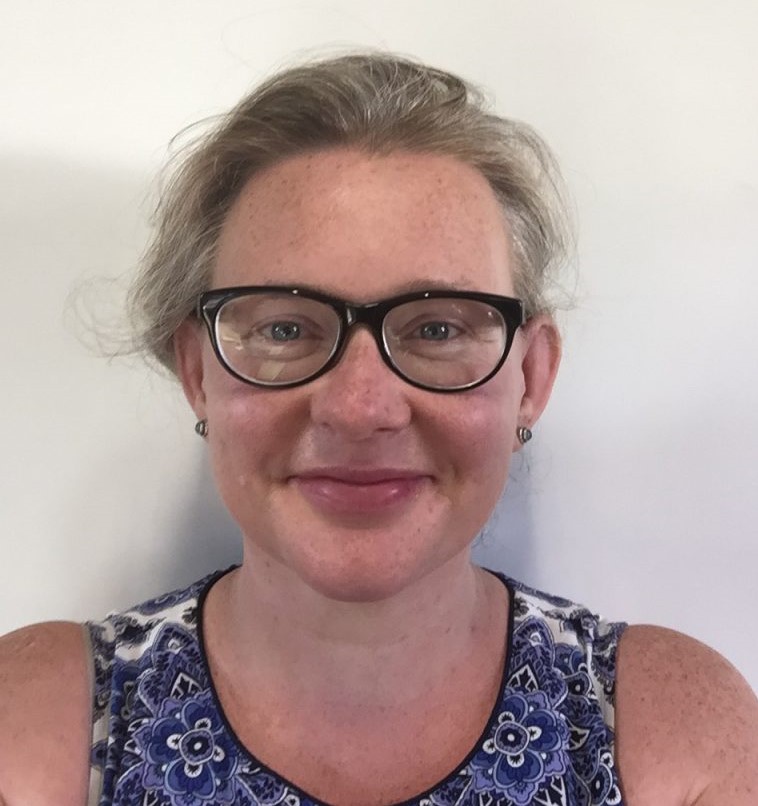 Joan O'Donnell
Joan is a social justice advocate with over 20 years' experience working in the not for profit sector. She currently works in social policy within the sector, as well as with the  Centre for Social Innovation in Trinity Business School as an Engagement Catalyst.
She has an MSc in Systems Thinking in Practice and is an associate lecturer with the Open University.  Joan is interested in bringing systemic analysis to social policy / innovation and creating the conditions for reflexive practice, as well as supporting systems to see and unstick themselves.
Joan is a practitioner of Social Presencing Theatre (SPT), a part of the Theory U methodology that is designed to support us to access deeper knowledge regarding how our ways of relating and organizing are not necessarily helpful in the context of what we are trying to achieve.
Paul Collard
Paul Collard is Chief Executive at CCE taking overall responsibility for the organisation, its policy and long-term strategic direction. He travels extensively, developing and supporting educational programmes in many countries, advising governments, regional authorities and cities on their work with children and young people and is much in demand as a speaker at international events.
Paul has over 30 years' experience of working in the arts and is an expert in delivering programmes that use creativity and culture as drivers of social and economic change. He joined the British Government's flagship creative learning programme, Creative Partnerships in January 2005 and played a crucial role in clarifying its purpose and streamlining the delivery of the programme in schools. In 2008, he led a relaunch of the Creative Partnerships schools programme while also assuming responsibility for Find Your Talent, the government's pilot cultural offer for all children and young people. To manage these programmes, he created a new organisation CCE, which took responsibility for the delivery of over £50 million of government cultural education programmes each year.
Paul is lead consultant to the Creative Schools programme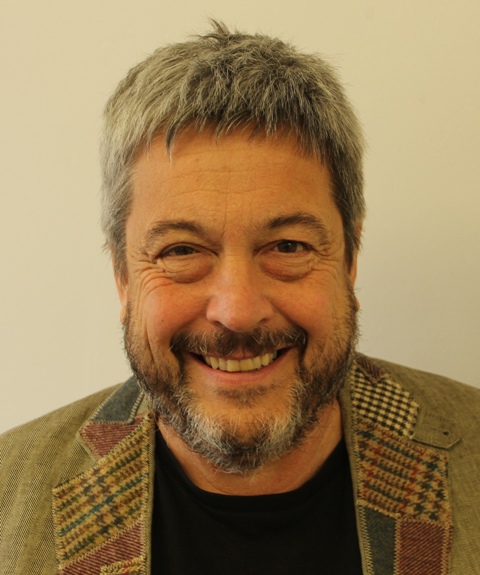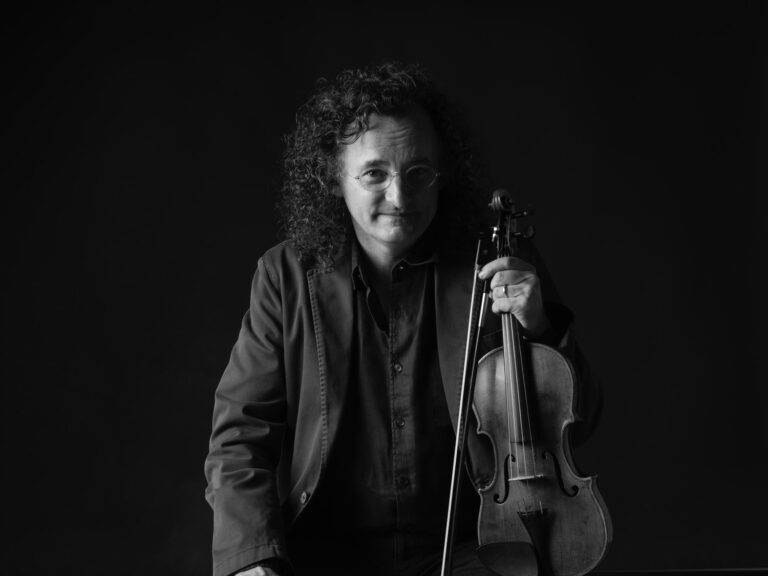 Martin Hayes
Martin is regarded as one of the most extraordinary talents to emerge in the world of Irish traditional music. His unique sound, his mastery of his chosen instrument – the violin – his acknowledgement of the past and his shaping of the future of the music, combine to create an astonishing and formidable artistic intelligence.
A native of County Clare, to which he returns for extended periods several times a year, Martin Hayes has been based in the United States, now living in Connecticut, for the past twenty-three years.
In his younger days he played in an experimental electric band in Chicago; recently he has composed scores for film, theatre, and modern dance, and has collaborated with like-minded musicians from other genres, such as jazz guitarist, Bill Frisell and eclectic violinist Darol Anger.
He views these explorations as a means of shedding light on his ongoing artistic journey, as well as a challenge to any rigidity of thought. The fundamental artistic quest is to go deeper and deeper within traditional Irish music and himself.
Martin Hawkes
Martin Hawkes, a founding trustee of the Burren College of Art, has been the lead researcher for the Symposium conducting interviews with leading figures and practitioners across the field of education.  While his background is in the public service, commercial banking and entrepreneurship his chairing of a second level school for the past 25 years has given him a deep interest in the area of education.  More recently he has co-presented a programme entitled 'creative difference' for cohorts of post-graduate students from NUI Galway which has opened his thinking to the nature of creativity.   Concern with climate and other evidence of profound systemic change has led to his recognizing the need for a shift in the nature of education to match the demands of a future which will be radically different from the past.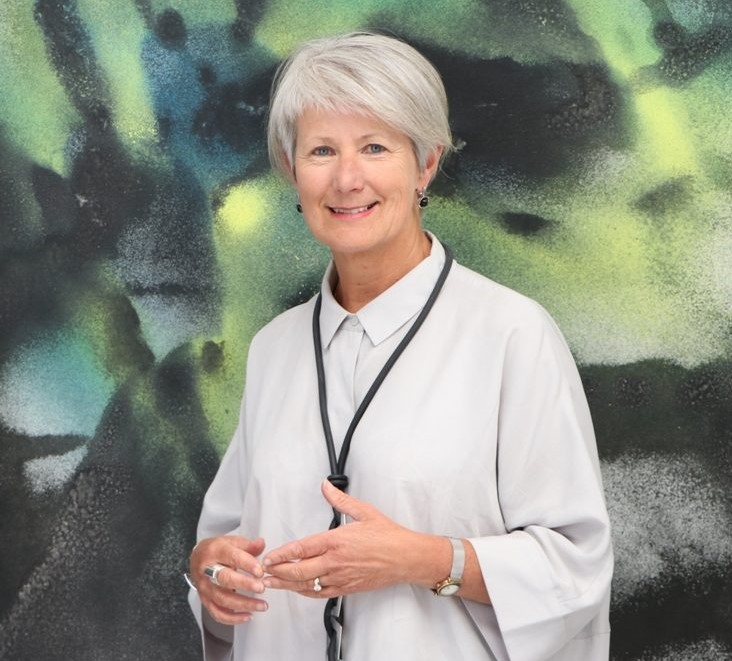 Mary Hawkes-Greene –  President, Burren College of Art
Mary's career in education has ranged from teaching in Italy, France and Israel, to designing programmes for inner city Dublin communities, to working with government agencies on education policy for itinerant Irish traveller children. Central to all of these has been her commitment to the arts in education and firsthand experience of the educational value of living in diverse cultures. These beliefs were actualised in setting up the Burren College of Art in 1994, providing an alternative model of art education for an international audience in an inspirational setting. A subsequent exploration of creativity and business extended Mary's commitment to the concept of universal creativity and to broadening the remit of the Burren College of Art.
Julia Long
Julia Long joined the Burren College of Art team in 2012. Originally from Romania – she holds an Honors Degree in French Language and Literature from the West University of Timisoara.
Having worked in the communications industry for many years in her home country and in Ireland, Julia works as anchor point between various programmes running on campus throughout the year. Her main role focuses on drafting, scheduling and overseeing all aspects of the Groups Study Abroad Programme at BCA, but also the summer workshops programme, conferences and leadership events. Julia will be the coordinator for the Creative Education symposium.