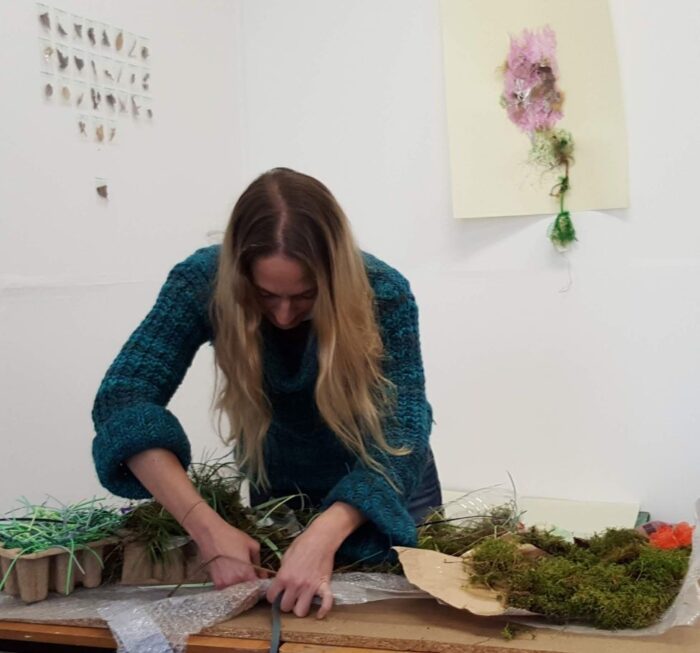 Faculty: Ida Mitrani

Dates: 19th -23rd August 2024

This five-days course is designed to help participants discover their own visual language and to explore their artistic side without the pressure of having to complete the perfect artwork. Participants will experiment with a variety of media, discover new techniques or go back to basics. Students can use graphite, watercolour, chalk, paint and coloured pencils and the basic idea is to combine materials to create unique artworks.
Through individual and group experimentation, participants will develop new and creative ideas, using drawing, nature-inspired texture library, outdoor sketching, colour mixing, painting and 2D/3D mixed media collage combined with used material and found objects from home, on campus or in the Burren.
Through regular demonstration and feedback, Ida will guide the participants build the confidence to pursue their creative paths outside the course. Participants will learn how to elevate regular materials and turn them into beautiful art pieces. 
Tutor Bio
Ida Mitrani is a Turkish born French artist and art facilitator living in Ireland since 1997. She received a First Class Honours Masters degree in Art and Process from the Crawford College of Art and Design in Cork in 2021.

She has taken part in several group exhibitions including Droichead Arts Centre, Roscommon Arts Centre, Visual Carlow, GOMA Waterford, Lexicon Gallery, Temple Bar Gallery & Studios, Oonagh Young Gallery, Cross Gallery and a solo show in NAG in Dublin.

Awards include the Arts Council Agility Award, Dublin Arts Office residential space, and the Arts for Health residency award at Uillinn West Cork Arts Centre.
Her work is now part of public collections such as the HSE, the Crawford MAAP Graduate Collection, the National Library in Dublin, the National Archives of Ireland, and the Arts Office in Dun Laoghaire-Rathdown.