ERASMUS+ Programme 2022 - 2024
Burren College of Art – in partnership with La Cambre (Belgium), LE 75 (Belgium) and UA Poznań (Poland) – has been awarded a prestigious ERASMUS+ Partnership For Cooperation Award in 2022.
This is a fully funded grant to allow students and faculty from each participating institution to travel and work together for a unique educational project. Partnerships for cooperation are transnational projects designed to develop and share innovative practices and promote cooperation, peer learning and exchanges of experiences in the fields of education, training and youth.
Partners in the project:
Institutions involved are:
École Nationale Supérieure des Arts Visuels de La Cambre, Brussels
École Supérieure des Arts de l'Image Le 75, Brussels
University of Fine Arts in Poznań (Uniwersytet Artystyczny) Poland
Burren College of Art, Ireland
Three festivals are also involved:
Verão Azul (Lagos, Portugal)
New Performance (Turku, Finland)
(Pas si) Fragile ! (Brussels Belgium)
Performing Identity is the title of the two year programme which will take place from 2022 – 2024.
The programme takes the form of workshops 4-8 days in duration, happening at locations in Brussels, Lagos (Portugal), Burren (Ireland), Turku (Finland) and Poznan (Poland).
20 students from the partnership institutions will travel with their faculty mentors to the different locations to participate in workshops, seminars, symposia, screenings and performance festivals.
The focus of the programme is exploring identity and the ways it manifests in contemporary culture, society and in relation to the environment.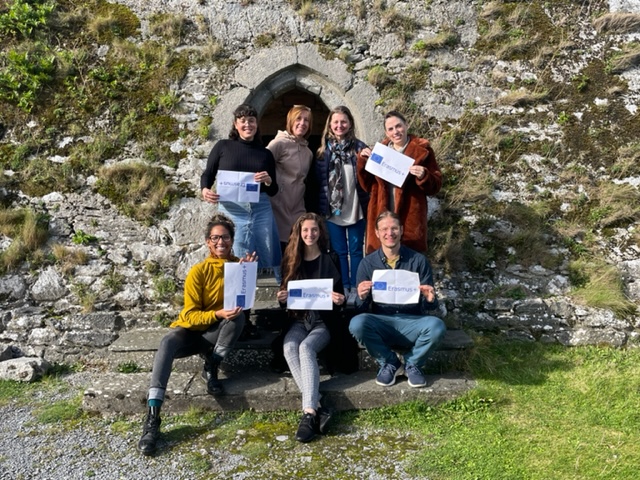 Burren College of Art participants
Five BCA students have been granted a place on the Erasmus+ programe:

Fadwa Bouziane, PhD candidate
Joe Hendel, PhD candidate
Kat Cope, PhD candidate
Phoebe Tohl, MFA student
Erin Besch, MFA student


Dr Áine Phillips is the BCA faculty member leading the project and Julia Long works on the adminitration and logistical side.

Performing Identity: Performance art facing contemporary social challenges
Performing Identity is a nomadic programme of learning and practice in Performance Art taking place over two academic years (2022 – 2023 and 2023 – 2024). The programme is offered to a total of 15 students from higher level art education who have a Performance or Live Art practice.
Addressing questions of identity, the programme offers a series of workshops at the partner institutions and festivals, including performance practice, professional and theoretical encounters and the creation of performances in varied public frameworks. A living archive is built during the whole duration of the project. which will published on the internet and globally accessible.
Schedule of activities
- Workshop "Identity and intersectionality", La Cambre/Brussels, 14-19 Novem-ber 2022 (6 days)
- Workshop "Collective identities" and attending of the festival Verão Az-ul/Lagos, Portugal 5-9 April 2023 (5 days)
- Workshop "Identity and ecology", Burren College of Art/Ballyvaughan, 14-19 August 2023 (6 days)
- Attending of the festival New Performance Turku/Turku, 6-9 September 2023 (4 days)
- Workshop "Identity and censorship", UAP, Poznan, November 2023 (8 days)
- Creation of performances in the framework of the festival (Pas si) Frag-ile !/Studio Thor, Brussels, April 2024 (4 days)

Each of the workshops includes the creation of performances, presented publicly in different ways. In parallel, a group of students and teachers of ESA LE 75, in dialogue with the participants, will create a live archive of the project.
The programme is aimed at students with a practice / strong interest in live art and performance art (third year of Bachelor or Masters MFA or PhD) enlisted at La Cambre, UAP or Burren College. The participation in the Live Archive dimension is reserved for the students of ESA LE 75.
Students receive travel and accommodation scholarships, and production support for their final performances. Students enrolled on the programme are required to commit to the entire 2 year duration of the project.
FURTHER INFORMATION

The two year project develops over four immersive workshops of artistic research and practice. The student will encounter many art works and research at the intersection between art and knowledge, to develop and create their own performative response. They will finally present their works in public space, gathered in an intensive festival programme, open to audiences and professionals. The whole process is documented by their peers in an engaged and collaborative relationship, and shared with the public on an original digital platform.
The encounter with a plurality of pedagogies and with different cultural criteria activates what Performance Art does best, while in dynamic response to the context where it is created. The theme of identity makes this journey coherent, and anchors it in contemporary issues. These experiences, along with the opportunity to create new work while being supported by a team of experienced artists and teachers, will deliver the necessary tools for student performers to assert real artistic singularity and originality.