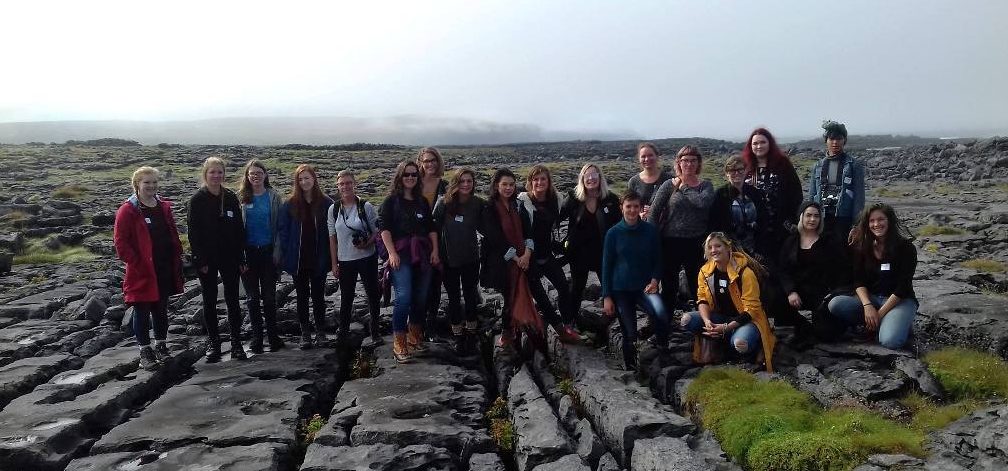 If you are ready to step away from the mainstream art school experience, then welcome to the Burren College of Art.
Studying abroad helps you develop new perspectives on who you are as an artist, and to see your art and yourself through new eyes.  BCA offers a transformative experience for the emerging artist, stripping away the noise, clutter and distraction of everyday urban life to allow for a greater exploration of creativity.
Our maximum college capacity during the academic year is 40, which includes a combination of Study Abroad undergraduate students, postgraduate students, and several artists-in-residence from all over the world. This intimate community creates an exciting platform for discussion, artistic collaboration and cross-disciplinary exchanges.
Students are assigned a large studio space for the duration of their programme, to which they have access 24/7.  Our courses are delivered both in-studio, on a tutorial basis or as group courses. Tutorial courses are taught through scheduled 1-to-1 contact in a students own studio, supplemented by regular scheduled group presentations, discussions and critiques. Group courses are taught as a unified class, with all students present with the tutor at the same time, along with individual advising sessions.
Students normally take 5 courses during the semester, each carrying 3 credits.  There is a diverse array of courses from which to choose in the areas of Painting, Sculpture, Drawing, Photography, as well as adjunct courses such as Art & Ecology, Live Art: Performing the Self in Landscape, and Art in Context.  We also offer non-studio courses in Art History, Creative Writing and Irish Studies; an essential element of a semester abroad in this part of the world.  Courses are available at Introductory, Intermediate, Advanced and Independent level and a full description of the range of courses is available in the adjacent online tabs.
A weekly visiting artist programme, regular trips to galleries in Dublin, London and Berlin as well as local galleries and visual art festivals in the West of Ireland ensure students are exposed to the best of European contemporary art.
Please contact Dr. Lisa Newman, Director of Admissions, with any questions: lisa@burrencollege.ie
Leave your expectations at the door and embrace whatever inspiration comes your way.