Faculty-Led Group Study Abroad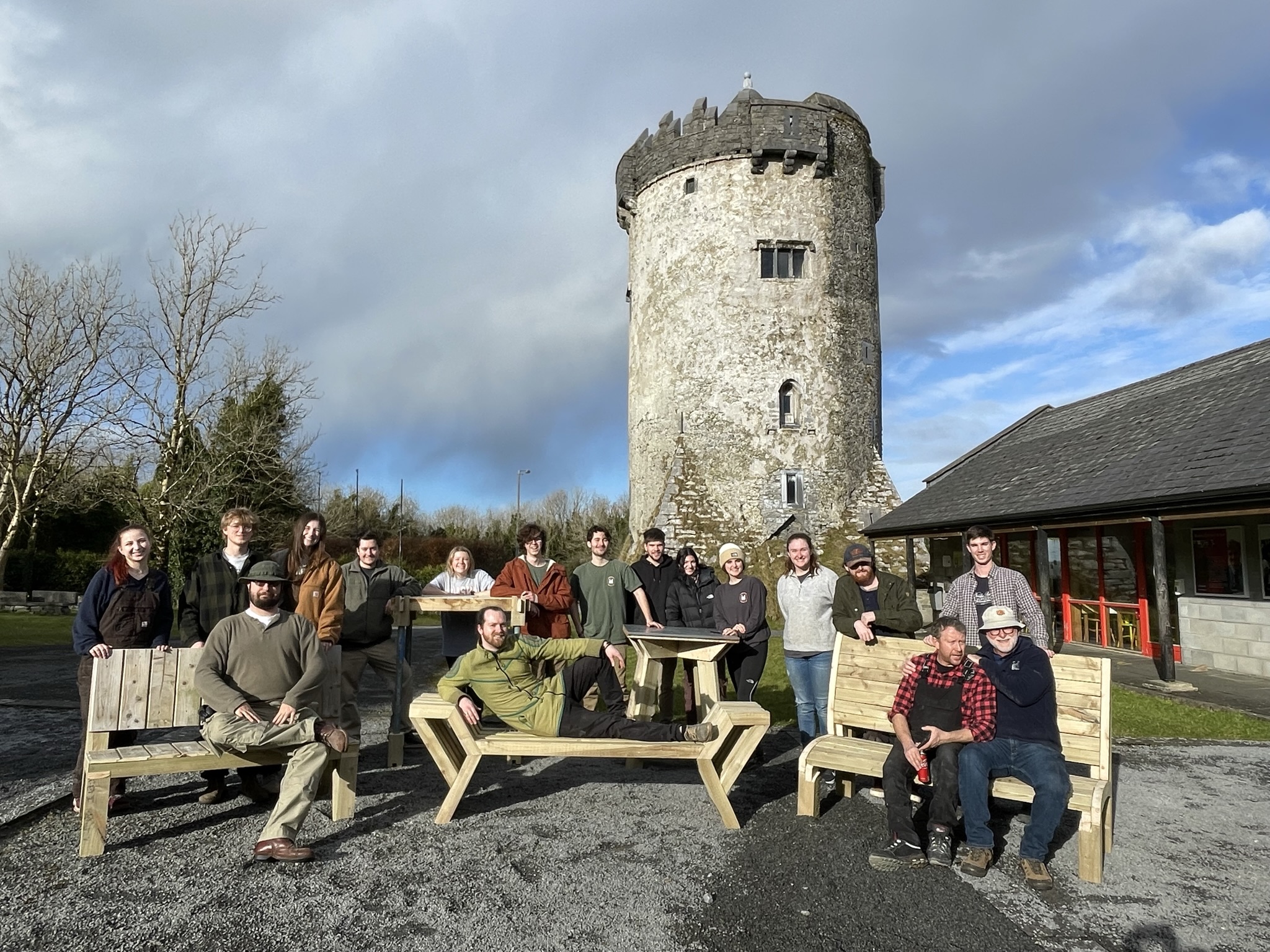 The programmes of Burren College of Art centre on our ability to provide a focused period of immersion for artists, faculty and students in an inspirational learning environment. We are delighted to extend this opportunity to faculty-led groups by providing a more affordable alternative to individual study abroad.
Planning a trip from another country can be a daunting prospect. Accessing information on local accommodations, transportation and resources is time-consuming. Our Group Study Abroad Coordinator, Julia Long, assists in simplifying this process, leaving group leaders to concentrate on the academic programme and working with their students.
Visiting groups and students are invited to join and participate in the college community. BCA is a vibrant place during the summer months with visiting faculty, students and resident artists adding diverse layers of experience and perspective. We arrange open studio and social events to allow for valuable cross-pollination of ideas and interesting conversations on campus.
To discuss options for organizing a Group Study Abroad program at Burren College of Art, please contact Julia at julia@burrencollege.ie. We look forward to working with you from the planning stage onwards, managing every detail from when your group arrives at the airport, until your departure at the end of the journey.
The location of the College provides for a host of options when it comes to planning a Group Study Abroad trip.  Faculty leading their first trip to the Burren are welcome to contact us at the planning stage for advice and suggestions on the many options available.  Once we know the aims and parameters of the trip – subject areas, proposed dates, group numbers, studio and accommodation requirements – we can work with faculty to develop an academic programme and cultural itinerary to suit the specific needs of each group.
Daily transport from housing to the campus is provided free of charge each morning and afternoon.  Each group is allocated its own housing in comfortable, well-appointed houses throughout the village of Ballyvaughan.  Student accommodation is on a twin occupancy, self-catering basis.  Faculty are lodged in private rooms in a shared faculty house, also on a self-catering basis.  All houses have fully equipped kitchen and laundry facilities and are situated close to the college and the village itself.
As well as individual studio spaces with access 24/7, groups can request scheduled access to other college facilities.
Wireless internet access is available throughout campus and in most of the college housing.  While we have computers available for students' use on campus, we encourage students to bring their own laptops also when they travel.
Groups are also welcome to make use of the 16th century Newtown Castle on campus, which provides an atmospheric location for talks, presentations, performance work, installations and exhibitions.
For those interested in supplementing their teaching programme, we can co-ordinate  tutorials from BCA faculty.  We can also recommend opportunities to engage with the cultural life of the Burren, such as fieldtrips or guest visits to your programme by local artists and environmental experts.
A meaningful engagement with the Burren and its people is a highlight for many of the the students who come here and there are numerous ways to encourage this.  We provide a complimentary guided coach tour of the Burren for every group, helping them to acclimate and give students context for the work they are about to undertake.
Fieldtrips are a popular addition to many group programmes, enabling the students to explore the landscape in this dramatic coastal region.  Within easy reach are the Neolithic portal tomb at Poulnabrone, the cave system at Aillwee, the medieval high crosses and cathedral at Kilfenora and the Cistercian Abbey at Corcomroe.  Coole Park, Thoor Ballylee – once home to WB Yeats – Doolin, Fanore and the Cliffs of Moher are all within a short drive as is Galway city; the cultural capital of the West of Ireland and home to a number of arts and film festivals during the summer months.
The offshore Aran Islands prove a popular overnight trip for many groups and give students an insight into a landscape largely untouched in centuries.  Other weekend options include trips to Dublin, Cork or Belfast as part of a cultural itinerary.
However, often the most fruitful element of the group experience has been the ability for faculty and students to spend focused time together on campus, reflecting and developing their ideas.  Many groups affirm that their 3 or 4 weeks in the Burren often produces more work than that produced in a whole semester at home.
For more information, please contact the Director of Group Study Abroad Programme, Julia Long at julia@burrencollege.ie
The Burren has a "slowburning" effect on those who visit. The longer one stays and explores, the more the Burren finds its way into one's core.The Burren College of Art is perfectly placed to allow students and artists to focus and translate their experinces through concentrated art practice.