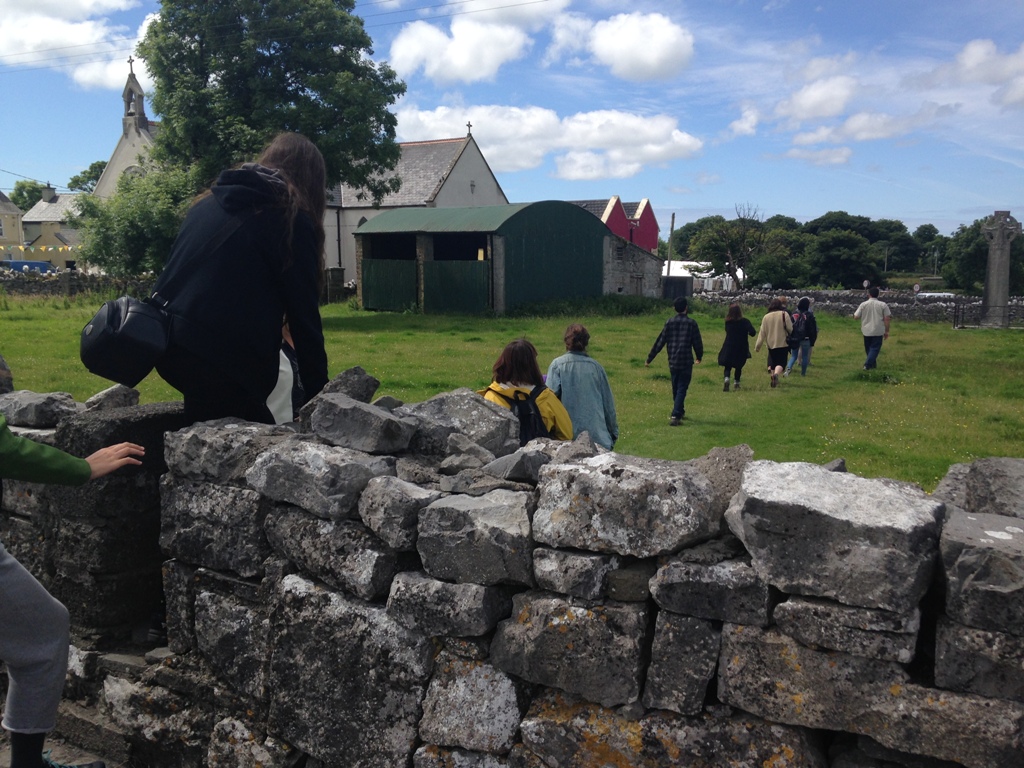 Students may chose up to two liberal arts courses to complement their studio courses. We recommend all students take Irish Studies unless their home institution disallows it.
BCANS1 Irish Studies (Group Course)
The focus of the Irish Studies course is to introduce students to the Burren and to provide them with a sense of place, locally, nationally and in the context of Europe. Comprising a mixture of lectures and fieldtrips, the curriculum is broad-based and holistic beginning with natural history and expanding to social history. The unique landscape features, flora and fauna of the Burren are highlighted and contrasted with other regions, such as Connemara. The course deals chronologically with Ireland's fascinating social background, from earliest pre-history to the present day. The weekly fieldtrip incorporates elements of archaeology, folklore, anthropology, architecture and artistic representation. The Gaelic Revival is afforded special coverage. The course also includes exploration of contemporary issues such as agricultural change, tourism and environmental impact. The course ends with an investigation of the background to the Northern 'Troubles' and subsequent peace and the artist's role in reconciliation.
BCANS2 Art History (Group Course)
The emphasis of this course is on 20th and 21st Century developments in the visual arts, with attention to the context within which artists developed their practice. The focus is upon movements within European and Irish Art, with reference to their relationships to contemporary American art. The course is delivered as a series of topical lectures followed by individual research projects and presentations, aimed to help contextualize student's studio practice.
This course is available in the Spring Semester only.
BCANS3 Creative Writing (Group Course)
The aim of this course is to enable course participants to write original works in both poetry and prose with an understanding of some of the technical aspects of poetry and fiction writing. The course looks at key movements in literature; modernism, postmodernism, formalism. Students examine such issues as individual motivation, development of style, evaluation of classical and contemporary models, mechanics of form, experimentation, style and subject matter. There are writing exercises conducted in class facilitating the opening up of the creative subconscious, and writing assignments to be completed between classes. All students are expected to maintain a writing journal. Over the course of the semester participants are expected to complete a series of poems and one short story or novel outline with initial draft chapter.
This course is now available in both Autumn and Spring semesters.