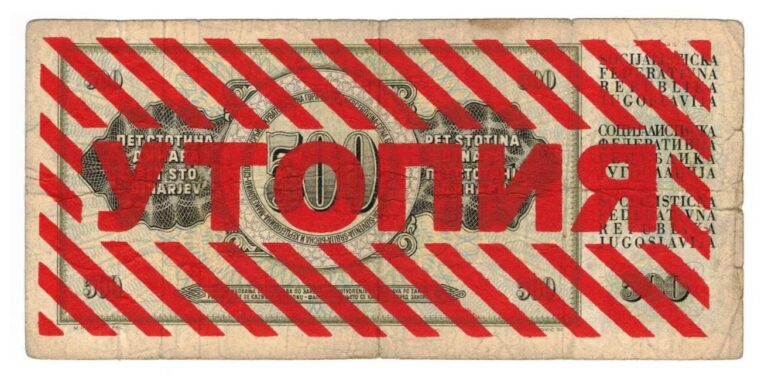 May 17 – June 15, 2018
Opening Reception Thursday, May 17, 6.00 – 8.00 PM
The Gallery | Burren College of Art
Ballyvaughan | Co. Clare
Burren College of Art is pleased to announce NSK State Reserve: Crisis Currency. The exhibition will feature works by NSK State Reserve (Charles Lewis & david K. Thompson), NSK citizens, and members of IRWIN, one of the founding groups of the Neue Slowenische Kunst collective.
Dystopian moments in finance – the depressions, disenfranchisement, the fraying of the social contract – are well known.  In Crisis Currency, NSK State Reserve has sought to rebalance these moments against a historically held utopian vision of finance, even if that vision must be remembered from whole cloth.  By occupying the territory of bank notes and bonds, the NSK State Reserve carries on in the tradition of Neue Slowenische Kunst by assuming the functions of a state agency while operating outside of any territorial state.  The revived financial instruments of the Reserve bring with them the baggage of an occupied territory, each with their own story even as they are appropriated into a new, imagined financial system.  Since its inception in 2016, the Reserve has issued thousands of notes, dozens of bonds, and held distribution events and actions.  Crisis Currency provides an opportunity to witness the results of this work and perhaps participate in the flow that the Reserve most aims to encourage, a flow of generosity and prosperity that passes through our hearts as its currency passes through our hands.
The NSK State in Time was created in 1992 as a project of the Neue Slowenische Kunst artists' collective (founded in Ljubljana, Slovenia, in 1984). In response to the territorial break up of Yugoslavia the NSK collective created a virtual state in time and without territory, questioning nationalism, boundaries and the utopian desires underpinning social formations. The NSK State produces passports, opens temporary consulates, and currently has over 14,000 citizens. Burren College of Art hosted the The 2nd NSK State Folk Art Biennale: Folk Art Rising 1916-2016, in 2016, which brought together over 37 artists and NSK citizens, including NSK State Reserve.
Charles Lewis has been an NSK State citizen since 2001.  He operates as an NSK State diplomat in New York, and frequently speaks at art and diplomatic events including events at NADA, MoMA, Morbid Anatomy Museum, e-flux, and the Culture Day celebration of the Slovenian mission to the United Nations.  When he is not engaged in his duties as a citizen he is a financial software developer and also has a self-published novel, Cappadocia.
david K. Thompson is a native New Mexican multi-disciplinary artist. His art juxtaposes found-object readymades, machinery, propaganda, documents and other forms of æstheticised nationalism culminating in mechanized absurdity and delineated psychological geographies. Through the deliberate misuse of scientific or religious aesthetics, cartography, and political semiotics, his work questions taxonomy, the existential nature of identity, and even the notion of art itself.  He is an NSK State passport-holder who has designed bureaucratic implements for many State functions including the NSK Passport Office, MoMA, New York and NSK Electronic Consulate New York, at e-flux.
The work of the NSK State Reserve has appeared at NADA, Hauser & Wirth Gallery bookstore, the Ostrale exhibition in Dresden, SVA in New York, and in collaboration with IRWIN as an operative component of the NSK State pavilion at the 57th Venice Biennale.
CONTACT INFORMATION
Burren College of Art: + 353 65 707 7200
For enquires: lisa@burrencollege.ie