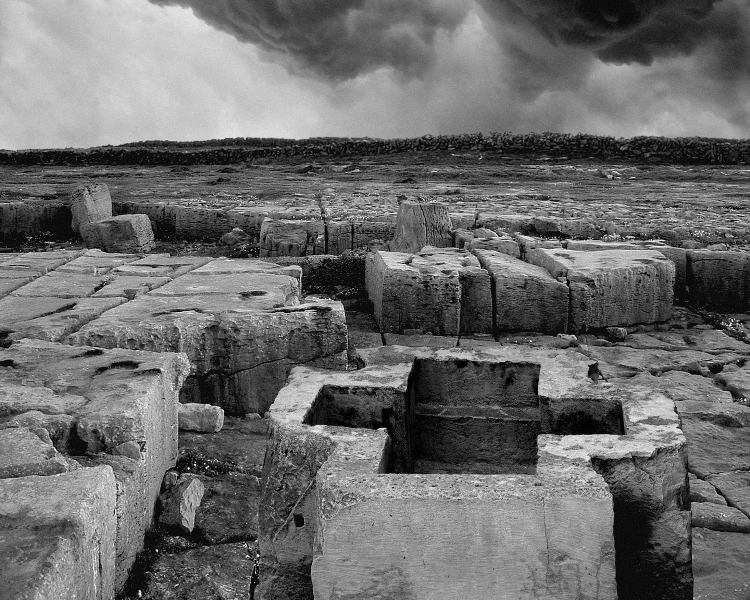 The Burren Annual
The 2nd NSK State Folk Art Biennale: Folk Art Rising 1916-2016
June 30 – August 5
Burren College of Art
Opening Reception & Performances Thursday, June 30, 6.00 – 9.00 PM
Symposium Friday, July 1, 10.00 AM – 5.00 PM
Terrain (En) Actions Saturday, July 2, 10.00 AM
Burren College of Art is pleased to announce The 2nd NSK State Folk Art Biennale as this year's Burren Annual exhibition. The 2nd NSK State Folk Art Biennale will bring together over 30 international artists and collectives including special guests and NSK founding members, IRWIN.
2nd NSK Folk Art Biennale Exhibition
The NSK State was created in 1992 as a project of the Neue Slowenische Kunst artists' collective (founded in Ljubljana, Slovenia, in 1984). In response to the break up of Yugoslavia in the early 1990's, the NSK collective created a virtual state in time and without territory, to examine and question nationalism, national boundaries and the utopian desires underpinning social formations. The NSK State produces passports, opens temporary consulates, and currently has over 14,000 citizens.  The 1st NSK Folk Art Biennale took place in Leipzig in 2014, and featured a wide range of works generated by NSK citizens and artists who critically examined the contemporary nation state and questions of power, history and identity, as well as the artistic legacy created by NSK. The 2nd NSK State Folk Art Biennale will be the second major NSK related event in Ireland, following the NSK State Dublin week of events held in Dublin in 2004, in which all the NSK groups participated and at which an NSK passport office was opened.
Artists participating in The 2nd NSK State Folk Art Biennale engage with the ongoing aesthetic and conceptual development of the NSK State, and with the contemporary nation state as it relates to the question of territory in a global context defined by rising nationalism, fortified boundaries and social instability. The 1916 Easter Rising in Ireland and its aftermath, encompassing themes of revolution, war, colonialism and post-colonialism is also examined, alongside performative actions focusing on the karst limestone landscape of the Burren. Taking place in the context of the 1916 centenary commemorations, the exhibition and accompanying symposium will contribute to a dynamic period of critical reflection on the past, present and future of the Irish state, and the idea of the contemporary nation state in an increasingly fragmented and polarized global context.
ARTISTS:
Athanasios Anagnostopoulos (GR), Caul Audiac (IE), Zbigniew Bogusławski (PL), Vera Bremerton (IT), Carsten Busse (DE), Christian Chrobok (DE), Patrick Cocoran (IE), Dominic Corrigan (IE), Shane Cullen (IE), Haris Hararis (GR), IRWIN (SL), Llewyn Maire (US), Russell MacEwan (UK), Emily McMehen (CA), Valnoir Mortasonge (FR), Nikkita Morgan (IE), Lili Anamarija No (SL), Kevin Noble (US), NSK Lipsk (DE), NSKNY (US), Noel O'Callaghan (IE), Maurice O'Connell (IE), Alan Phelan (IE), Avi Pitchon (IS), David K. Thompson (US), Darn Thorn (IE), Tanja Ravlić (HR), Florian Schaurer (DE), Berthold Schymura (DE), Andre Stitt (UK), Sz.Berlin (UK), Enemy Tone (US), TLO (Three Letter Organisation) (IE), Rose Vidal (FR)
PERFORMANCES
In conjunction with the Opening Reception on Thursday, June 30, the following performances will take place in Newtown Castle:
7.00 – 7.30 PM           State Control Resistance Llewyn Maire
7.30 – 9.00 PM           Leviathan Vera Bremerton (Durational Performance)
8:00 – 8.30 PM           Stahlschwert 16 Sz.Berlin
SYMPOSIUM
On Friday, July 1, a one day symposium will elaborate on the themes addressed by the exhibition and their broader social and cultural impact in relation to the period of commemoration in Ireland and the precarious state of the European Union. Artists and invited guest speakers will discuss the role of the contemporary nation state, the aesthetics of memorialisation in relation to place (both real and imagined) and the relationship between artists/artist's collectives to the current climate of globalization.
TERRAIN (EN) ACTIONS
On Saturday, July 2, a number of actions and activities will take place in the Burren. These include a visit to the Burren Birds of Prey Centre for a falconry demonstation and a vist to the Cliffs of Moher and the Doolin coastline for a performative action.