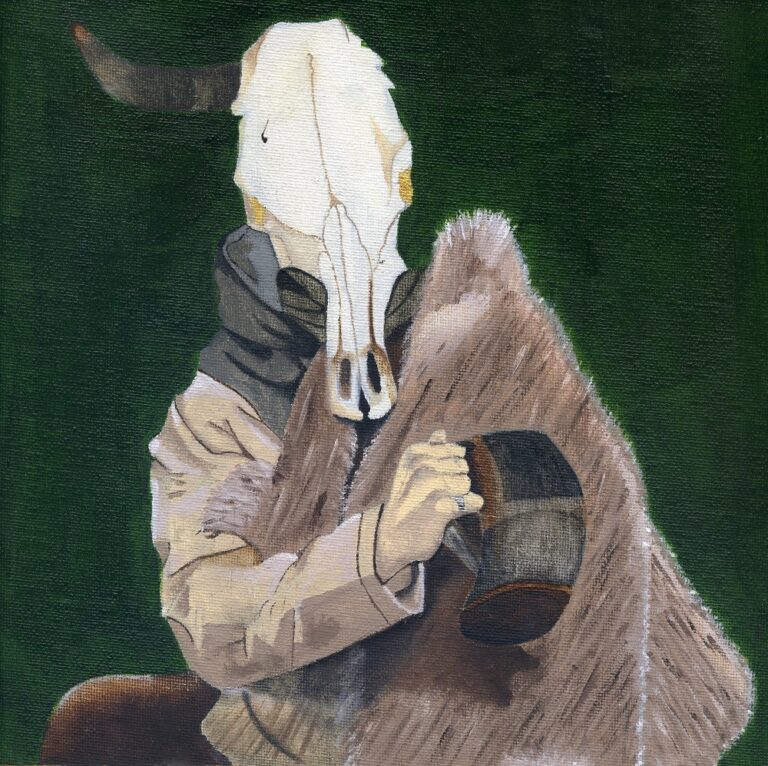 Claire Mcgeehan

MA in Art & Ecology Graduate Exhibition
December 10, 2022-January 13, 2023
Opening Reception: Saturday, December 10 | 6-8pm
Gallery Hours
Sunday | December 11 | 10am-5pm
Mon-Fri | 9:30am-5:00pm
Gallery will be closed from December 22, reopening January 3
contact@burrencollege.ie | +353 65 7077200
Despite knowing intellectually what our behaviour have wrought for the earth's creatures, we continue our destructive conduct. Perhaps a visceral presentation can help wake us up. Here now are hybrids creatures who roam the earth making choices like Homo Sapiens. They use their resources for a life of luxury. A fox skins herself to keep warm, the tiger has a beautiful new bear rug to ogle at and a beaver dons a top hat of his stretched skin to attend an elegant party. They overdo it and, in so doing, find themselves stripped to the bone to make themselves happier. They do not care; they are killing themselves.
Wait, don't they want to survive? Don't we want to survive? Come, take a journey as you stare into the eyes of the animals that long for an answer. Who is asking for help? Them or us? In some way, we all are the animals dying off.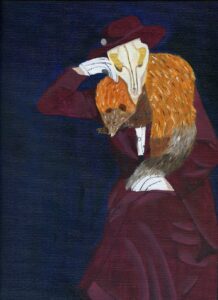 Claire received her undergraduate Bachelor of Arts degree at Otterbein University, where she majored in Studio Arts with Concentrations in Photography and Printmaking and a Minor in Creative Writing. She is finishing her Master of Arts degree in Art & Ecology at the University of Galway – Burren College of Art.
At an early age, Claire started showing signs of her ability to draw and her love and interest in animals. She has worked and volunteered with all types of animals, ranging from guinea pigs all the way up to exotic animals like snow leopards. It wasn't until after her Senior Year Experience offered by Otterbein that Claire was flown halfway across the world to Thailand. She found herself up close and personal with Asian Elephants. Through this experience, Claire learned that animals are where she wanted to direct her artwork. Claire has worked through her whimsical mixed media styles of art to bring her love and awareness of animals, specifically endangered species, into her artwork.
Claire currently resides in Chicago, Illinois, where she lives with her parents, her Scottish terrier brother Mr. Phillip "Pip" Pirrip, and her fur baby cat, His Most Glorious Majesty, Sebastian, King of Great Britain and Ireland. On her time off, Claire is either seen on a road trip in the backseat of the car napping with her brother or in bed napping with her cat. Claire also enjoys watching Animation and Wes Anderson movies and multitasking in art she is not trained in, like embroidery. When she is burned out doing art, Claire turns to writing a book she has been working on since college.