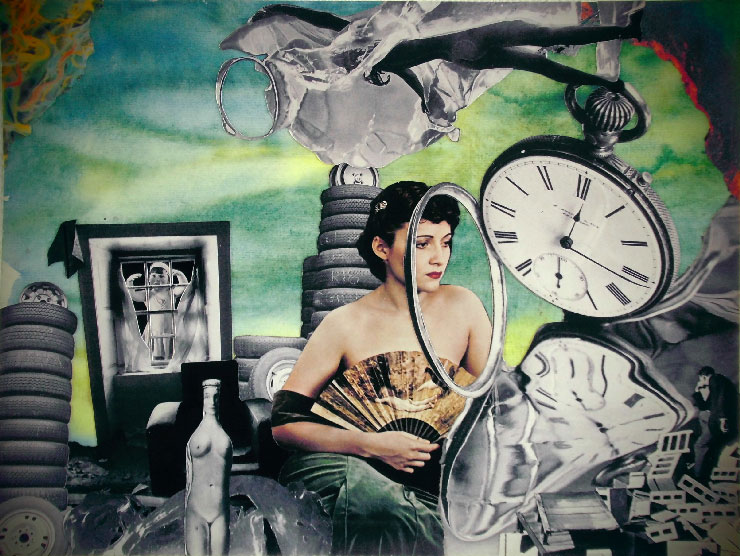 DOING WHAT WE ARE TOLD MAKES US FREE
MAY 4 – JUNE 16, 2017
The Gallery | Burren College of Art | Newtown Castle | Ballyvaughan | Co. Clare
OPENING RECEPTION THURSDAY, MAY 4, 6:00pm-8:00pm
Burren College of Art is pleased to host the first solo exhibition of works by Steven Stapleton. Internationally recognised through his pioneering experiments in sound with avant garde band Nurse With Wound, Steven is an acclaimed visual artist who has worked across multiple media. Doing What We Are Told Makes Us Free will bring together his work in collage, assemblage and painting in a dynamic gallery installation. As his first major solo exhibition, it will provide a rare opportunity to experience Stapleton's multi dimensional approach to visual art, which compliments and expands his extensive body of work in sonic experimentation.
Read a review of the exhibition in Quietus here.
Video documentation of exhibition here.
STEVEN STAPLETON | SLEEP CONCERT
FRIDAY, MAY 5, 10.00pm – 9.00am
The Gallery | Burren College of Art | Newtown Castle | Ballyvaughan | Co. Clare
Tickets €35
TICKETS WILL NOT BE SOLD ON THE DOOR. We recommend booking as soon as possible due to the limited number of tickets available. Please book your tickets here.
Burren College of Art is pleased to host Steven Stapleton | Sleep Concert.  Steven will perform live for an 8-hour concert that will run throughout the night, manipulating and re-animating his own Nurse With Wound recordings in an avant-DJ somniloquy to shape and colour your dreams.  Audience members are requested to sleep over for the duration of the concert. Inflatable beds, and breakfast the following morning, will be provided.  Attendees should bring their own blankets or sleeping bag.
Steven Stapleton is a British artist and sonic adventurer and the only constant member for the past 30 years of experimental, avant garde band Nurse With Wound. He is often seen as one of the pioneers of the British industrial music scene, alongside bands such as Throbbing Gristle, Coil and Psychic TV, although in his music he has explored a wide range of styles, including free-form improvisation, musique concrete, drone, folk and even Latin American Dance rhythms. Nurse With Wound is Stapleton's main outlet for his musical and sound art works, occasionally in collaboration with other musicians such as Coil, Stereolab, SunnO))), Faust, Whitehouse and other underground luminaries. He has also appeared on records by other artists and worked as a producer. He has run the United Dairies record label since 1978, which apart from the Nurse With Wound output, released records by many experimental artists including Irish contemporary composer Roger Doyle's avant ensemble, 'Operating Theatre', legendary improvisation group AMM and krautrock masters Guru Guru. Stapleton is also a graphic artist and painter and has designed many album sleeves and book covers. Under the name, Babs Santini, Stapleton has created the artwork for most of the Nurse With Wound recordings, as well as for other artists, such as Coil, Sand, The Legendary Pink Dots, Current 93 and others.
With Stapleton art it is clear that there is a dark and irreverent vision, not without artistic precedents and contemporaries. The list begins but certainly doesn't end with Goya, Kurt Schwitters, Max Ernst, Raoul Hausmann, the Dadaists, The Situationists and Martin Kippenberger, artists that defy easy categories and for whom conventions were meant to be upended, lovingly and unexpectedly, used and abused and battered into unconventional and sometimes rather beautiful shapes.
Steven Stapleton began his 'Sleep Concert' project in 2008. Since then he has recreated this project in various counties including Russia, England, Germany, Switzerland, Italy and Holland, in unusual and exotic venues and locations such as a planetarium, an anatomical museum, a natural history museum and a vintage railway terminal in Berlin. This is the second Sleep Concert to take place in Ireland. Stapleton lives in the Burren, in County Clare.