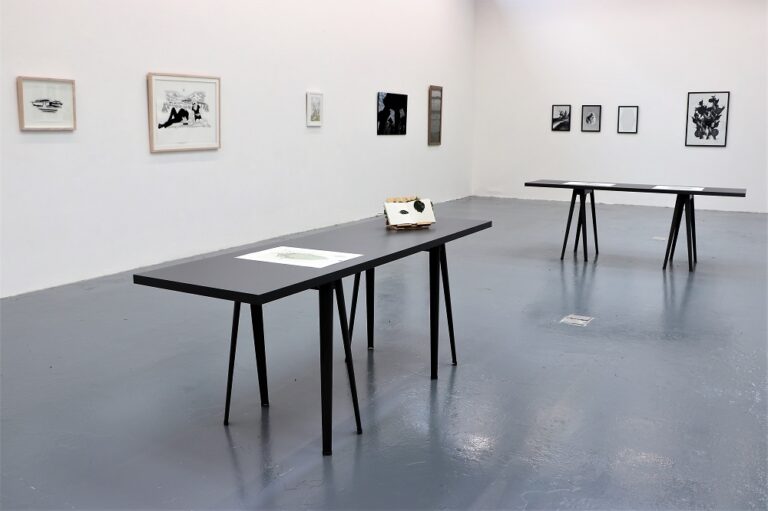 BCA Faculty Art Exhibition
September 14 – October 22, 2021
Gordon D'Arcy
Miriam de Búrca
Frank Golden
Eileen Hutton
Timothy Emlyn Jones
Conor McGrady
Áine Phillips
Ruby Wallis
The Faculty at BCA are practicing artists and writers who exhibit, perform, publish and present in galleries, museums, festivals and at academic conferences all over the globe. They have individually won many national and international awards and collectively come together in this exhibition to represent a diversity of contemporary creative practice. As well as responding to major themes current in art, literature and critical theory, these works reflect the rural and peripheral context of the Burren and address the experience of life and the relationship to art from a tributary off the mainstream.
Gordon is a leading expert in Irish heritage with an MSc in Environmental Science from Trinity College Dublin.  He has a particular interest in the Burren, which he has researched extensively for many years and he is an authority who is regularly consulted and who leads field trips for students and visiting scholars.
He has published many books and papers on wildlife including "The Natural History of The Burren", "Ireland's Lost Birds"(2003), while his book "Guide to the Birds of Ireland" (1981) was the first book on its subject.  His most recent book is "The Burren Wall" (2006).
https://gordondarcynature.com/
Miriam de Búrca is a visual artist who works primarily with film, video, drawing and installation. She studied at the Glasgow School of Art and Ulster University in Belfast, completing a BA (1996), MA (2000) and practise-based PhD (2010) in Fine Art. Her work deals with issues around identity, how this comes to be expressed through the marking out of territory, and how landscapes become shaped by power dynamics and the belief systems that uphold them. She has exhibited nationally and internationally in cities such as Dublin, Belfast, London, Berlin, Warsaw, Prague, Lisbon, Montreal and New York.
Frank Golden is a Clare-based poet, novelist, and visual artist. He has published five books of poems, the most recent of which is Gotta Get A Message To You (Salmon Poetry) described by Afric McGlinchy as "rhapsodic..the emotional punch hits dead centre" and Golden as "a poet to get excited about". His second novel The Night Game (Salmon Fiction) "A challenging, transgressive and gripping read, a chilling portrait of one woman's personal hell." Declan Burke/The Irish Examiner. A new book of poems If You Tolerate This is due out in 2021. Two new novels are currently being finalised The Immuners  and Walk. He has received awards and bursaries from the Film Board and the Irish Arts Council, the most recent being a Literature Bursary 2020 and a Professional Development Award2020. He is Director of the Creative Writing Programme at the Burren College of Art, and lives in the Oughtmama Valley in North Clare.
Eileen Hutton is a visual artist whose practice aims to generate reciprocal relationships with the more than human world and in the process create replicable models for informed ecological actions. She was the Researcher/ Evaluator for An Urgent Enquiry (2017- 2020) a series of think tank sessions and residencies that addressed the intersection between art, biodiversity and climate change. A member of the Ecoart Network, Hutton is a contributing author to Ecoart in Action, a collection of essays and provocations on pedagogy and ecoarts practice as well as becoming-Feral: A Beastiarum Vocabulum, a creative research publication. Recent projects include Voicing the Bridge: A Cross Borders Project supported by the Finnish Institute of London in association with Clady Cross-Community Development Association in Northern Ireland and B(e)etween: A Participatory Intervention during the Ennis Street Arts Festival. Current projects include a series of purpose built habitats and collaboratively produced sculptures that are exhibited as part of Home: Being and Belonging in Contemporary Ireland at The Glucksman Museum (IE) and The Soil Project Residency in association with the Butler Gallery (IE) for the duration of 2021.
Leaf mines are made by the larvae of select micromoths, flies, sawflies and beetles as they feed and grow inside the leaf tissue of plants. Leaf Miner Walks is a series of collected, scanned leaves which are overlaid by GPS-mapped drawings I've walked. As both insects and human beings, we inhabit the same site- Mullaghreelan Woods – but at vastly different scales and temporalities. It is the convergence of our drawings though which points towards an entangled multispecies becoming.
Professor Timothy Emlyn Jones is a Welsh-Irish artist who exhibits internationally and is represented in public collections in a number of countries. He is represented by Sandra Higgins Art in the UK. As Dean of Possibilities at Burren College of Art, he teaches 'How To Use Your Eyes,' a course in experimental drawing from observation, and 'Creative Difference,' an introduction to creative process to postgraduate students at NUI Galway. More of his work can be seen at www.timothyemlynjones.com and www.sandrahiggins.art
Qualia are the qualities of a phenomenon as they are perceived, as distinct from the phenomenon itself.
Conor McGrady is an artist from N. Ireland whose work examines the relationship between ideology and the politics of spatial control. Primarily executed in black and white, his often large-scale paintings and drawings explore various manifestations of social order and raise questions relating to the control of space, personal and national boundaries.
Conor received a BA Hons in Fine Art from the University of Northumbria (UK) and an MFA from the School of the Art Institute of Chicago (USA). He has recently held solo exhibitions in New York, Miami, Atlanta and Zagreb/Croatia. Group exhibitions include the 2002 Whitney Biennial in New York, Archiving Place and Time: Contemporary Art Practice in Northern Ireland since the Belfast Agreement, The Jerusalem Show VII: Fractures (Qalandiya International Biennial), D-0 Ark Underground Biennale of Contemporary Art, Sarajevo-Konjic, and IK-00 Spaces of Confinement in Venice. Editor of Radical History Review's Curated Spaces, his writing has appeared in The Brooklyn Rail, Ruminations on Violence (Waveland Press, 2007) State of Emergence (Plottner Verlag, 2011), State in Time (Drustvo NSK Informativni Center, Ljubljana, 2012) and The Design of Frontier Spaces (Ashgate, 2015).
Pentonville and Kilmainham are from a series of works on prisons and imprisonment in relation to radical political movements in Irish history. Golden Harvest is from a body of work exploring the relationship between power and representation.
Áine Phillips is a performance artist based in Galway, exhibiting and performing in Ireland and internationally since the late 80's. She has created work for multiple contexts; public art commissions, the street, club events, galleries, theatres and museums. Her work deals with feminist philosophy and politics, using art to comment and make propositions on subjectivity, gender and social change. In 2015, she produced and edited 'Performance Art in Ireland: A History' (Live Art Development Agency/ Intellect Books UK) and publishes regularly in visual art journals and books. Her performative video works and art films have been screened internationally at festivals and exhibitions. She has worked extensively as a curator of performance events in Ireland and the UK. Her work has been supported and collected by the Arts Council of Ireland. 
After Images 2021     Aine Phillips
Funded by Fingal County Council Arts Office

From live performances: Cosmetic Madonna 2000, Love & longing 2001, sex, birth & death 2002, Love lies bleeding 2004, Eyeless 2006, Red Wedding 2005, Harness 2007, The Lost Runway 2009 – 2010, Redress 2010 – 2012
Digital prints with Epson archival inks on 180gsm art paper
Ruby Wallis is a visual artist who works primarily with photography and video, she lectures at Burren College of Art and NUIG. Selected exhibitions include; The Lab, The Gallery of Photography, Belfast Exposed, The Dock, Les Rencontres d'Arles, Vondelbunker- Amsterdam, Ormston House, TULCA, Perlman Teaching Museum, USA. Selected publications include The New Yorker magazine, British Journal of Photography, Winter Papers vol.6. Wallis is on the board of directors, Engage Art Studios, Galway. Selected residencies include; IMMA Ireland, Galway Arts Centre, Tyrone Guthrie Centre. She is a recipient of a Visual Arts Bursary Award 2017 and 2020 from the Arts Council of Ireland and has an upcoming residency at Centre Culturel Irlandais 2021, awarded from Galway City Council. Her work is held in the collections of the National University of Ireland and Rochester Arts Centre, USA.