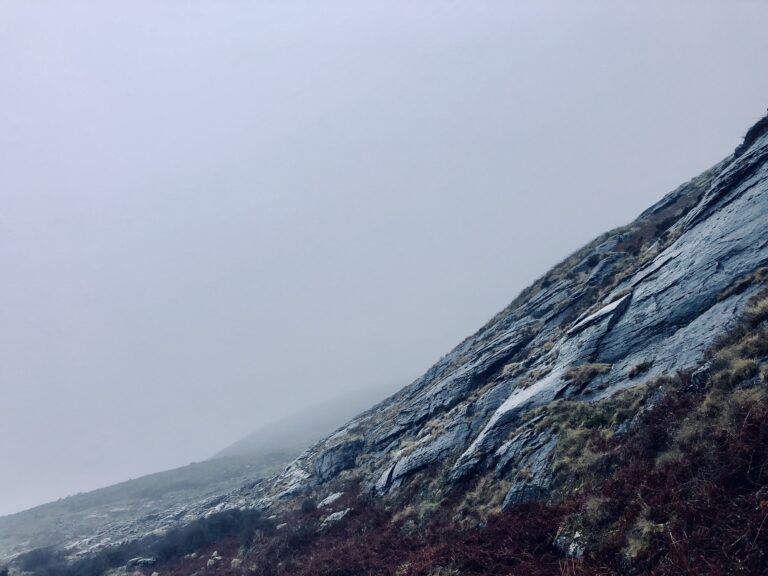 MFA Graduate Exhibition 2021
Brittany Baldwin | Shannon Castor | Ellen Ferrier
Letitia Hill | Aisling Jelinski | Sam Kahn
Public Viewing – May 10-14, 2021
Gallery hours: 9:00am-5:00pm, Monday-Friday
Following current government guidelines, we are pleased to announce that we are able to open this exhibition for public viewing from May 10-14, 2021.  Please do follow safety protocols, including the wearing of face masks in the gallery, and using hand sanitizing stations.  Attendance is limited to 15 at a time.
Contact: Lisa Newman, lisa@burrencollege.ie
+353 65 7077200
Gallery Exhibition Images
Brittany Baldwin is an MFA student originally from Louisiana in the United States. Her painting practice from her BFA has led to an exploration of material, culminating in a sculpture and mixed media practice today. Primarily working with natural materials, Brittany explores connections between materiality, locality and memory in her work.
Brittany has begun to draw from her own memories and familial background, exploring concepts of connectivity to the natural world and the human condition. Both of her parents and two great grandparents had a background in aeronautics; this has led to the exploration of the wing and humanity's interest in flight and biomimicry. Brittany has a deep interest in human history, and the history of airplane development has a unique connection to the environment, drawing from the anatomy of the bird to allow a human to experience flight. Through the lens of the 'shimmer,' a concept of connections between species and life cycles, Brittany lures the viewer in, allowing for reflection on our relationship with the natural world.
Running is an amplified phenomenological discipline. It is a high voltage experience. At times, it is a wading through figurative and physical wind, rain, snow, and occasionally hail. It is the genesis of my artistic process. Through oil painting I recreate what it is like to run and the internal processes that occur when pushing the body to its mental and physical limits.
Running is how I engage with the environment, how I view myself as an organism within a situated experience, connected to the more-than-human world. For me, running and perception are two in the same. Perception is a state of nuance, an active place of receiving information. Perception is what my work is about.
Moving beyond traditional landscape painting, my work is an amalgamation or emotional stew of what I see. Running is a cinematic experience of my body pushing through space. A tunnel of land with images storing in my periphery.
These stored images are combined with my photography to produce a painting – a hybrid image of what was there, what was imagined, and what was remembered.
I use color as a signifier of this visual combination. It is not a photorealistic depiction, but emblematic of how I process the environment. My palette is constantly swerving, transposing, and shape shifting, echoing my internal to external journeys between dusk and day, subjectivity and objectivity, unreal and real, perception and outcome.
Film: February 23, 2021  – Night Commute – 6 miles (5th option in listed films)
Ellen Ferrier is a spatially-engaged, materially-driven installation artist hailing from the majestic landscape of the Blue Mountains, inland of Sydney, Australia. After receiving a Bachelor of Interior Architecture from the University of New South Wales she then directed her creative inquiry to jewellery and object-design. After receiving mentorship from Studio Suvira, a small-scale contemporary wood-fired ceramic and public art studio in the Byron Bay hinterland, she then went on to pursue her Master of Fine Arts at the Burren College of Art in Co. Clare, Ireland.
Flesh of the World presents a conversation of materials discarded, obsolete and undervalued, revealing itself as a ritual gathering of elementals. Locally sourced sheep wool and intestines is contrasted with hand-harvested hazelwood and reclaimed copper pipes – once prized for their material properties and utilised accordingly, these materials are now effectively worthless. Wool costs more to salvage than sell, intestines are used as filler in animal food, remnant building materials are cast aside and abandoned, and in the Burren, hazel encroachment is considered problematic. Through slow and tender acts of care, I transform these materials from the quotidian to the curious, the forsaken to the flaunted, presenting them as something other than what they are, or what we know them to be. In so doing, I call for their reappraisal – enkindling renewed wonderment of, and correlation with the elemental world.
Flesh of the World is an invitation to touch and be touched, a gesture of intimacy, and a lure back to the elusive present moment. It serves to reacquaint us with materials of the land and of the body, celebrating these lapsed wonders of the earth, yet simultaneously invoking their revival.
Letitia Hill (born 1964, in Bangor, Maine) is an Irish American visual artist. Hill works across a variety of mediums, including drawing, painting, sculpture, installation, sound and video. Hill studied at the Santa Fe University of Art and Design in New Mexico, where she earned a Bachelor of Fine Arts in 2015 and is the recipient of the Emerging Artist of New Mexico. Presently Hill is attending the National University of Ireland, Burren College of Art, Masters of Fine Arts graduate programme.
Hill's art practice is research-based. Her research projects pre-empt the materials used, taking her practice to new worlds, challenging disciplines and meaningful collaboration. As she continues a fascination with the traditional frame; not as the space it holds, nor as a stable form but a veil able to transfer complex meta-data, conversing with display creating empathy for her protagonists in natural, digital and human-made environments.
Aisling Jelinski is a visual artist from Minnesota, USA, now living in the small rural village of Ballyvaughan, Ireland. Fusing her art historical background with intuitive mark-making, Aisling's primary medium is painting. She is especially drawn to the sculptures of Ancient Greece and Rome, and specifically how we tend to overlook their broken and fragmented state, mentally filling in the gaps rather than critically analyzing them as they exist today.
Evoked by familiarity in the unfamiliar and an unease sparked by intellectual uncertainty, the uncanny is a curious psychological experience intimately tied to the body. Using ancient sculptures as a metaphor for disembodiment, Aisling investigates the uncanny as it relates to the body-in-pieces and her own dissociation. A disconnect between 'self' and body, the dissociative state opens the mind up for the strange, eerie feelings of the uncanny to take root.
Sam Kahn is an artist born in Buffalo, NY, and studied Psychological and Brain Sciences with a minor in Art at Washington University in St. Louis. After this, they made the decision to leave the field of neuroscience research and return to their artistic practice. They completed a Post Baccalaureate certificate at the Burren College of Art and are currently pursuing their MFA at this institution. Here, they have started to develop a practice revolving around faces, stories, and social justice.