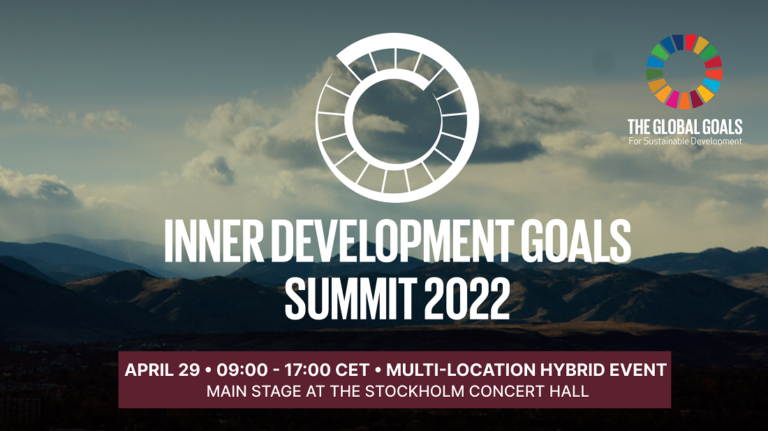 Friday, April 29
9:00am-5:00pm CET/8:00am-4:00pm GMT
To reserve a ticket to join us in person on the Burren College of Art campus please click HERE
To book your place online, please visit:
ReSource at Burren College of Art  (a supporting partner of the Inner Development Goals Initiative) invites you to join us online or in person at the College on April 29th 2022 for the Inner Development Goals Summit and global launch.

The Inner Development Goals (IDGs) is a global initiative that recognizes that humanity is not going to reach the United Nations Sustainable Development Goals (SDGs) by 2030 without some substantial changes and that a major key to those changes is in our collective inner development.
(i.e. We, collectively, have yet to get good enough at broadening participation in the SDGs and deepening how we work with the complexity and inter-connectedness of the Goals to ensure success and a more regenerative approach to development.)
On 29th April, there will be a major global summit event in Stockholm to help launch the IDGs, with hubs meeting to participate all over the world.
(Details of the Summit are on this link:  Inner Development Goals Summit 2022 – Tickets to watch the summit individually can be purchased, but think how much better it would be to watch in the beautiful Burren and interact with other key players in the Irish sustainability scene!)
If we are going to 'move the dial' on the SDG's, we need to move beyond our habitual ways, address our assumptions and blind spots and co-create like never before!
We will be watching key parts of the Summit together from 08.00 a.m Irish Summer Time) with breaks for refreshments and interaction along the way.  The Summit will close at 4pm  (IST) and will be followed by a one hour 'So What ? Now What ?' session at the College.  (We fully recognize that different people will join and leave at different times)
Places at the Burren College of Art hub on April 29th are free.
Refreshments will be available all day from the Cafe.
This is an invitation only event – We are inviting a mix of students and local sustainability practitioners, as well as national stakeholders from government, business and the NGO Sector.
To reserve a place, please register here.
Morning: 09:00-12:30 CET
Try out the Inner Development Goals (IDG) framework and contribute with your wisdom in an immersive experience around:
BEING: How can we stay in touch with our inner compass and enhance a learning mindset? (Mapei, Johan Rockström, Renée Lertzman, Micael Dahlen, Phoebe Tickell, Stefan Swartling Peterson + more)
THINKING: What can help us cultivate long-term orientation, maturity and wisdom? (Robert Kegan, María del Pilar Garrido, Jonathan Rosen, Emma Stenström, Simon Anholt + more)

Lunch: 12:30-13.30 CET

Afternoon: 13:30-17:00 CET
Get the feel for the methods, practices, and tools that help us to meet our personal, organizational, societal, and global challenges:
RELATING: How can we leverage compassion, humility, and connectedness in our cultures? (Dan Siegel, Jennifer Garvey Berger, Shobi Lawalata, Naila Kabeer, Walter Osika + more)
COLLABORATING: How can we build trust and promote an inclusive mindset in our teams, organizations, and societies? (Steven C Hays, Christin Mellner, Johan von Schreeb, Emiliana Rodriguez, Matthew T Lee + more)
ACTING: Practice with pioneers and grow your courage, optimism and creativity! (Amy C. Edmondson, Otto Scharmer, Divine Ndhlukula, Jakob Trollbäck, Camilla Wallander, Lars Strannegård + more)