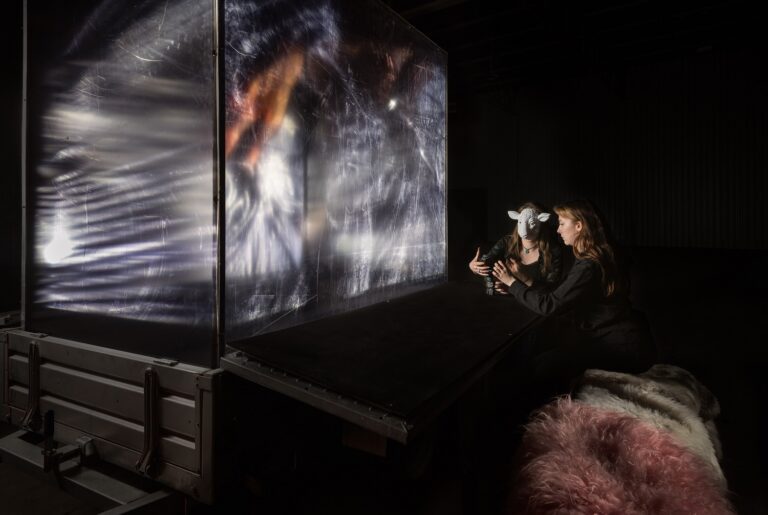 Tanya de Paor
PhD Exhibition
September 15 – October 28, 2022
Opening Reception: September 15, 6-8pm
Gallery Hours: Mon-Fri, 9:30am-5:00pm
Burren College of Art | Ballyvaughan | Co. Clare | H91 H299
contact@burrencollege.ie
+353 65 7077200
My doctoral enquiry addresses the question, 'How can contemporary art practice contribute to a shared understanding of and response to the Anthropocene?' through eco-art, pedagogy, socially engaged art practices and theoretical scholarly research.
Research has shown that art can affect positive engagement with ecological change, but there is a limited understanding of how to do this. Some climate art contributes further to the problem through the aestheticisation of environmental collapse, resulting in a sense of fear and overwhelm.
My research explores how art practice and arts education can foster positive engagement in ecological challenges through an immersive multimedia sculptural installation, a toolkit and a suite of creative tools. The work contributes to eco-art and creative pedagogy by creating spaces for collective engagement to promote agentic responses through participative and relational art. Fables for a Reconstruction comprises immersive aesthetic and sensory elements to draw in the audience to think about our connections and interdependencies. Donna Haraway's notion of SF, science fiction, speculative feminism, science fact and speculative fable making informs my practice-based research to engage participants in a playful examination of the Anthropocene and Symbiocene concepts. The culmination of my study entwines eco-art, aesthetics and socially engaged art, all focused on relatable micro-political practices for transformative change.
In my research, the family is understood as an interconnected series of human and non-human entities, and the environment, to form a creative community of practice. The community of practice, working collaboratively with the artist/ researcher, used their own lives as raw material to generate artistic tools in response to ecological challenges. My research evolved through transdisciplinary practice-based research and by deploying art pedagogic practice in a series of intergenerational workshops to interrogate the research question and sub-questions of how to address the sense of isolationism of the Anthropocene and how to collectively re-envision an ecologically just future.
Tanya de Paor is an artist, researcher and lecturer based in Cork and Limerick. She holds an MA from Belfast College of Art, University of Ulster. She is completing a doctorate in studio art at Burren College of Art and the University of Galway. Her creative practice, research and teaching are informed by developments in contemporary art practices, art education, eco-art pedagogies, ecology, the Anthropocene and changing concepts of nature and how this informs our relationship to the world, the environment and non-human others. In 2015 she completed the Planetary Boundaries and Human Opportunities course with the Stockholm Resilience Centre, University of Stockholm. 
Tanya teaches Visual Art Education at MIC, University of Limerick.  She is involved with module design and delivery in visual art education modules in the Bachelor of Education (B.Ed) and Post Graduate Masters of Education Primary (PMEP). She continues collaborating with students, colleagues and artists/researchers to advance active engagement and enjoyment in art education, eco-art practices and ecological sustainability. From 2017 -2020 she co-ordinated the Visual Artists Residency, MIC, in conjunction with the Arts Council of Ireland in contemporary drawing with the artist Maeve Clancy, colleagues, students, and the wider community to promote drawing in schools and educational settings. 
She has disseminated her scholarly research and art practice through exhibitions, conferences, symposiums, and publications. Recent exhibitions include FemFest, MIC, (2019), Ex-Post Facto, X-PO, Co Clare, (2019); New Artistic Research, Burren College of Art, (2020); A Sisyphean Task, NUI Galway Gallery, (2020); and Zoom Out, a virtual exhibition hosted by Burren College of Art, (2021). Recent conference presentations include the Association of Independent Colleges of Art and Design (AICAD) Academic Symposium: (virtual). (Why) We Can't Stop Thinking About the Future, (2021); ZOOMOut: Online Symposium, (2021): Title: Spinning A Yarn: A Tale of Undoing and the Annual Conference of Irish Geographers, (CIG), (2021), Geographies of Responsibility: Rethinking Boundaries and Borders in a Turbulent World: Art and Geography 1: An Irish Anthropocene.
Her recent publications include; Sherman, M (ed) ( 2019) International Opportunities in the Arts: Book Chapter: Between Three Worlds: Sustainable Visions in the Anthropocene (and how to achieve them), Vernon Press, Series in Art and,
Dolan, A, (2021) Teaching Climate Change in Primary Schools: an interdisciplinary approach: Book chapter: The Grow Room: An artistic exploration of climate change,  Routledge.