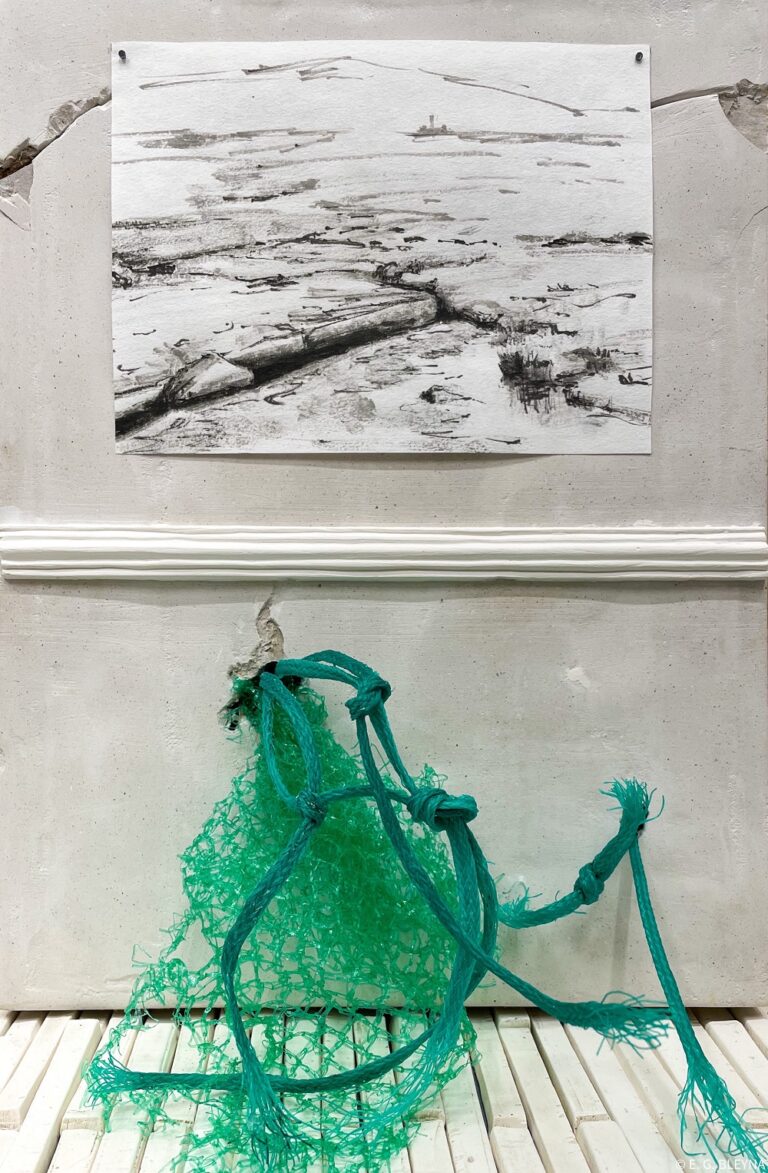 MFA Interim Exhibition
Elizabeth Bleynat | Tiffani Love | Francine Marquis
December 11, 2021 – January 21, 2022
Gallery Hours: Sunday: December 12 – 10am-5pm
Monday-Friday 9:30am-5:00pm
Note: The Gallery will be closed for the holidays from December 20 and reopening on January 4
ATTENDANCE SUBJECT TO COVID REGULATIONS.
Burren College of Art | Ballyvaughan | Co. Clare
Also showing:
Wild With Foam and Glitter – Undergraduate Study Abroad Exhibition – December 11-16, 2021
If I Were Ewe – Installation by Verneri Salonen and PhoebeTohl –  December 11 – 16, 2021
Postgraduate Open Studios – December 11-16, 2021
Contact: Lisa Newman, lisa@burrencollege.ie or +353 (0)65 7077200
Déan Cúram / take care is the title of a winter group show by final year Masters students at Burren College of Art: Francine Marquis, Tiffani Love, and Elizabeth Bleynat.The art on display will be paintings and sculptures exploring ideas of place, environmental care, and memory.
Elizabeth Bleynat's artwork embraces environmental care as a conduit for human rights advocacy. Primarily, she explores her artistic interests by working with found sea trash, considering the far flung environmental impacts of the goods commonly consumed via fishing and international trade. The works call upon the inherent history of labour in maritime trade routes and fisheries. Often utilizing weaving and hand quilting methods, the work is tactile and visibly crafted, suggesting the visual references of her childhood in Appalachia. Her artwork, rooted in her experience in advocacy, explores the degradation of waterways, globalized trade, and ecofeminist notions through found object sculpture and documentation. From 2017 to 2019, Bleynat lived in Hong Kong and worked as a human rights advocate in the maritime industry. Later, she pursued work as a documentary photographer for a medical charity. Bleynat treated her positions in the not-for-profit sector as community-engaged artist residencies. Bleynat is an American artist living and working in the west of Ireland. She is pursuing a MFA at the Burren College of Art.
Tiffani Love is a landscape painter originally from Northern New York and is currently pursuing an MFA degree at the Burren College of Art. Her work in Déan Cúram / take care focuses on a relatively small coastal region, known as the Rine, within the Burren, Co. Clare. Regarding her subject in this series of paintings, Love says:
'I am interested in the Rine as a liminal space, with its intertwining of the land and sea. There is an area along the Rine where I go to watch the incoming tide. Water fills into the cracks between slabs of limestone pavement. I watch the water as it flows through these natural canals, eventually seeping into the earth and filling into pools dotted throughout the landscape. Even after the tide retreats, these pools are left behind, often for hours before the water drains down through the layers of earth and limestone. The tide not only weaves together land and sea, but it pulls me into the place as well.'
Love reflects on this experience upon returning to the studio. Through the use of oil paint on canvas, with carefully chosen color and physical brushwork, she expresses this connection to place.
She milked her memory into (three of) her favorite children
summer stroking at rocks and a generation of mud
timber bent and folded
and as we fell asleep
we felt our limbs tingle into it:
the architecture of our memories.
Francine Marquis is an interdisciplinary sculptural artist and writer currently studying to receive her MFA from The Burren College of Art. Her studio practice is deeply rooted in process and material. With meticulously crafted, built, fractured installations, she explores personal memories layered within place and interior spaces. Interested in the tactile phenomenological experiences shared between her work and the audience, she welcomes collaboration through physical engagement, further troubling the distinction between construction and deconstruction. Her most recent installation series, A Wall two Place, can be seen in the winter MFA group exhibition Déan Cúram / take care at the Burren College of Art Gallery, where she embeds her own memories within the materiality of architectural space.