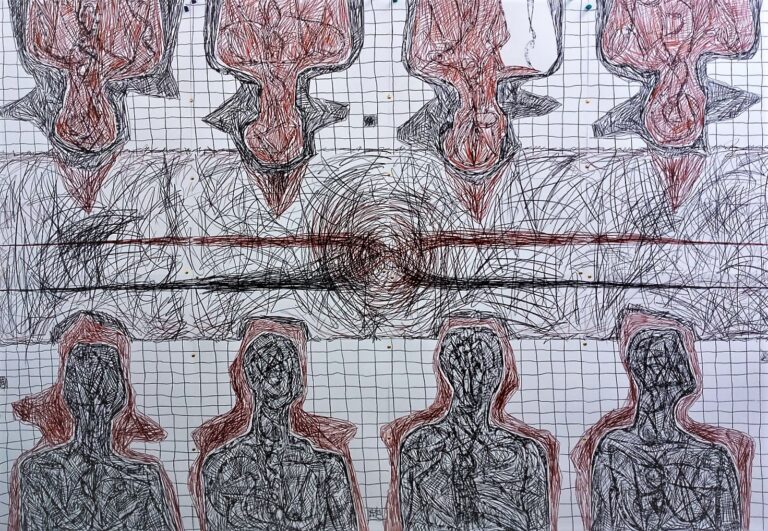 new work by
Yevhen Svitlychnyi
July 10-15, 2023
Opening Reception: Monday, July 10, 5-7pm
Gallery Hours: Mon-Fri 9:30am-5:00pm
Burren College of Art | Ballyvaughan | Co, Clare  H91 H299
contact@burrencollege.ie | +353 (0)65 7077200
'Art is the best way to resolve a grave situation' – Rita Duffy
Yevhen Svitlychnyi (Alternate roman translation "Yevgen Svitlychny" / "Eugene Svitlychny" Ukrainian: Світли́чний Євге́н Іва́нович; born June 1, 1948, in Kaunas, Lithuanian SSR) is a contemporary Ukrainian artist.
Svitlychnyi was graduated from the Kyiv Art Institute in 1973 (Departments of Painting), where he studied teachers and mentors, K. Trokhymenko and A. Plamenitsky. From 1974 he lives and works in Kharkiv. For the last 20 years he has been teaching at the Department of Fine and Decorative Arts of the Faculty of Architecture of Kharkiv National University of Civil Engineering and Architecture.
Since 1980 he is and has always been an active participant in international and national exhibitions.
Svitlychnyi's first personal exhibition took place in Kyiv in 1986. The first publication of his works was in the dissident's so-called "samvydaw" magazine "Kafedra" Part 9, 1989.
He has had 23 solo and joint exhibitions to date, and has been an artist-in-residence at Burren College of Art since April, 2022.
Svitlychnyi's work is held in the following permanent collections:
National Art Museum of Ukraine (Kyiv, Ukraine)

Norton and Nancy Dodge Collection of Soviet Nonconformist Art

Zimmerli Art Museum at Rutgers University (New Brunswick, the USA)

Kharkiv Art Museum (Kharkiv, Ukraine)
Also in private collections in USA, Portuguese, Germany, Israel, Spain, Bolivia, Canada and Ukraine.
Yevhen Svitlychnyi is married to Yevheniia Svitlychna. Yevhenia Svitlychna is a philologist, a specialist in classical philology and the author of over 80 scientific papers. They have three sons: Borys Svitlychny – military, Oleksandr Svitlychny – MD (surgeon), Ivan Svitlychny – an artist, the main direction of his work is new media. Ivan also works with video, sound – sculpture, graphics, installations.