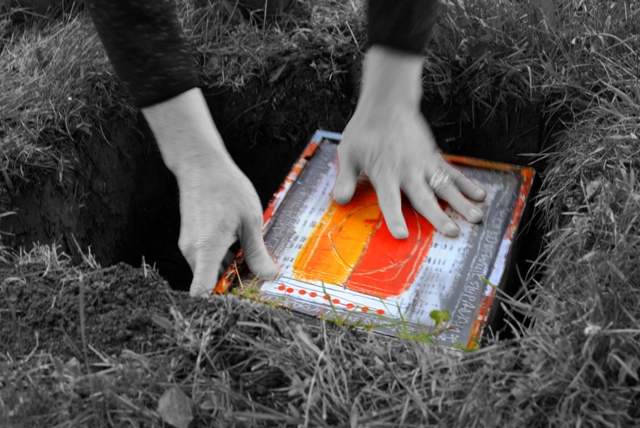 Sean Cotter, Gary Robinson and Thomas Brezing
September 12 – October 18, 2019
OPENING RECEPTION: THURSDAY, SEPTEMBER 12, 6 – 8 PM
The Gallery | Burren College of Art
Gallery Hours:
Monday – Friday, 9:30am – 5:00pm
Please note: The Gallery will be closed for a private event for the dates of September 19 and 20, and will reopen the following Monday, September 23.
Burren College of Art is pleased to host "The Consequence of Memory and Pulse", a collaborative exhibition by Irish artists: Sean Cotter, Gary Robinson and Thomas Brezing. This exhibition is a continuation of an earlier group show, "Memory Has A Pulse" which was shown in Gallery 126 and National University Ireland Galway as part of the Galway International Arts Festival 2017. One of the aims of the current exhibition is to continue their exploration into the influence of memory, buried or otherwise, and how this can affect our lives, and also to contribute to the current conversation around this Anthropocene and geological time we live in.
The exhibition will be opened by Irish artist, Shane Cullen, at the reception on September 12.
The three artists felt they hadn't fully exhausted the different concepts and themes in 2017 and decided to revisit and develop the ideas further into a new body of work, without losing connectivity to the previous work.  One share element of the exhibition was the burial and retrieval of work (paintings, sculptures, memorabilia, and bricolage) in soil/earth, the 'giving up' and surrendering of work; and the handing over to the Earth's digestive system.  The objects change when exposed to the elements, and they change when they are buried, through the properties of the soil.  The soil keeps the memory and transforms what it's been given.
The artists will take the work that has been 'digested' in the Earth and use it to inform and contribute to the wider discussion on memory of place and person and its malleability.
Contact: Lisa Newman (0) 65 7077200 or lisa@burrencollege.ie
Sean Cotter
Landscape works as a metaphor for life and its dramas, whether in turmoil or at peace. Wide open spaces can be shut down by a few well placed lines and so emulate the constraints of the modern world or a person's desire to contain and control their own immediate emotional environment. Blurred boundaries between areas of light and dark recall the sometimes difficult choices that are neither right nor wrong. While history, whether the viewers or the images, impacts on every work it is its own aesthetic that carries it off in the end and it is the exploration of my medium that keeps me behind my studio door.
www.seancotter.com
Gary Robinson
Gary Robinson's work is concerned with unfinished texts. Most of us do not think in complete sentences, but in a self-interrupted, looping cacophony. This is normal and part of the structure of our busy daily lives. There are many approaches to dealing with the mental fatigue this brings, and writing helps us to track these spinning thoughts, while concurrently uncovering forgotten memories.
His work attempts to address these issues through a series of paintings exploring this process of free writing. In effect, they are diary-like in their approach to this investigation.
Although primarily a painter, he has extended his practice in recent years to include three dimensional work and installations. He uses his local environment, urban and rural, to inform the content of this work, often making it metaphorically and literally the actual 'raw material' of his art. The practice of painting along with found materials acts as a visual prompt in 'poking the bear', putting energy into a universal language, one which is evident in everybody's day.
Since 2013, Robinson has been centrally involved with the Engage Artist project (Longford) organising and curating several group exhibitions in a converted retail space in the centre of Longford Town.
He has exhibited widely in Ireland, Northern Ireland and England.  In particular, The Origin Gallery- Dublin since 2006, and has completed many residencies (The Fire Station Studios, Cill Rialaig Artist Retreat, Tyrone Guthrie Centre). His work is included in the Boyle Civic Arts Collection, Monaghan County Council, Irish Prison Service, Longford County Council Municipal Collection, The Office of Public Works and many private collections in Ireland, Spain, Germany and the US.
Thomas Brezing
Thomas Brezing's work explores the collective shadow of contemporary mass culture from a variety of conceptual perspectives.  His images and installations confront the enormous power of humanity's collective will and its impact on the environment.  He works in various art forms: painting, installation, performance, printmaking, sound and film.
Between 2000 and 2018, Brezing has had solo shows at Highlanes Municipal Gallery, Drogheda (2011); The Lab, Dublin (2007); Ashford Gallery, Royal Hibernian Academy, Dublin (2005); and five solo shows with the Molesworth Gallery, Dublin.  Group shows include '7.42' at Lapua Art Museum, and Cable Factory, Finland (2012/13), with Mary Kelly, Abigail O'Brien and Sean Cotter; 'Altered Images' at the Crawford Art Gallery, Cork; and the Irish Museum of Modern Art, Dublin (2010/11).
Brezing is the recipient of an Arts Council Visual Bursary Award (2017), Fingal Artists Support Scheme Awards, and his work is included in the collections of the National Portrait Collection, Ireland; Fingal County Council Collection; Lapua Art Museum Collection, Finland; Highlanes Municipal Collection; Mayo County Council; Contemporary Irish Art Society; Boyle Civic Collection and the Office of Public Works.