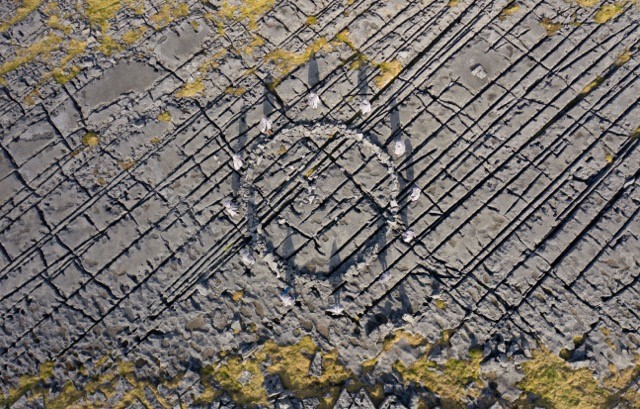 In 1975, world renowned sculptor Richard Long created "A Circle in Ireland" on Doolin Point, at The Cliffs of Moher, Co. Clare. Over the years the stone circle has fallen into disrepair. Burren College of Art students and staff are collaborating with Galway 2020, Clare Arts Office and Creative Ireland to restore the circle during a performative event that was filmed on location during February 2021.
Please enjoy the film of the event here:
Image: Burren College of Art students performing Coming Full Circle February 2021, photograph by Tom Flanagan
Film artist Tom Flanagan has created the short film. BCA Head of Sculpture, Dr Áine Phillips, directed and co-ordinated the performance and musician/sound artist Brian Fleming composed a sound score to accompany the performance. Masters of Fine Art, PhD and Post-baccalaureate students devised and performed the 'restoration action'.
In response to Burren College of Art's proposal to perform a restoration action at "A Circle in Ireland", Richard Long wrote:
A Circle in Ireland, 1975, is part of a story. In 1967 I came to Co. Cork with a 
"travelling" sculpture: three concentric circles, in segments, which I assembled
in different natural locations. The circles were the same, but each place gave its 
particular characteristics to the work, like undulations, or stones, for example.
It was sculpture as place, so the work was unique at each place, like a footprint.
In 1974, from near Doolin, I started a coast to coast walk across Ireland, placing
a stone on the road at every mile along the way. A Walk of 164 Miles, A Line of 164 Stones.
Since making my first circle in nature in 1966, I have made many circles in different natural
landscapes in the world, from the Andes to Africa to Antarctica. 
Often these sculptures are like stopping places on long distance walks. They are usually
anonymous, temporary marks of passage. Originally my Circle in Ireland was intended like
this, but by now it seems to have taken on a life of its own. With the attention of the students
of the Burren College of Art, I think the work is in good hands.
.
Thanks to Richard Long, Rachel Cartwright and Tate St Ives
The Burren Geopark and The National Parks and Wildlife Service, County Clare