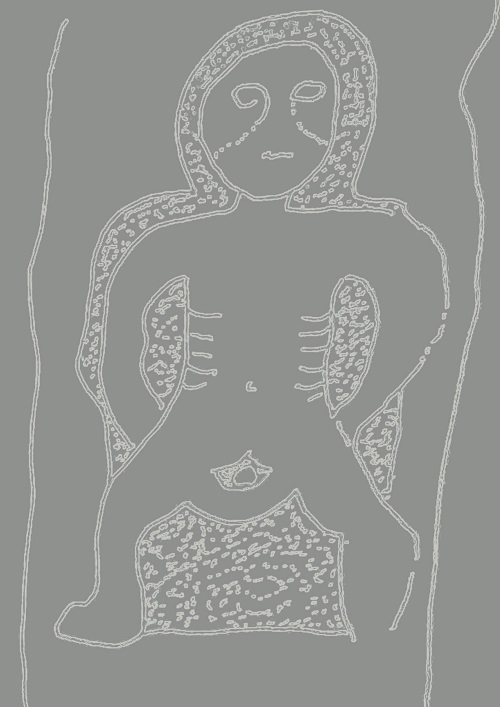 Tara Carroll, Laura Ní Fhlaibhín,
Siobhán O'Callaghan, Blaine O'Donnell
October 24 – November 22, 2019
OPENING RECEPTION: THURSDAY, OCTOBER 24, 6 – 8 PM
Opening remarks at 6:45 by Simon Fennessy Corcoran of Gallery 126
The Gallery | Burren College of Art
Gallery Hours:
Monday – Friday, 9:30am – 5:00pm
Image: Tara Carroll
Burren College of Art is pleased to host the exhibition, CAOL ÁIT, which features the work of the four artists selected for the 2019 Emerging Irish Artist Residency Award (EIARA) at the Burren College of Art: Tara Carroll, Laura Ní Fhlaibhín, Siobhán O'Callaghan, Blaine O'Donnell.
The EIARA, now in its fourth year, gives four selected artists a free one-month residency award followed by exhibitions in the Burren College of Art gallery and the 126 Gallery in Galway. In 2019, we are delighted to announce that the award has received support from Arts Council Ireland.
Of uncertain historical origin, the Irish term caol áit -commonly translated as thin place– describes locations of traditional significance where it is believed that the separation between the physical world and spiritual realms is thinner, less substantial, more easily traversed.
Caol áit alludes to the artists' shared interest in the rich material and intangible cultural heritage of the Burren. Bringing together four diverse practices, the exhibition features works that have emerged from their research into local archaeology, folklore, geology, language and customs.
The exhibition will be opened by Simon Fennessy Corcoran, Chair of the Board of Directors of the 126 Gallery, Galway.
Contact: Lisa Newman (0) 65 7077200 or lisa@burrencollege.ie
Tara Carroll is a Dublin based artist, curator and facilitator. Her practice is predominantly performance, which transforms into other mediums such as textiles, installation, video and photography not as a site of documentation but as art works in their own right.  Her practice focuses on female sexuality through explorations of the fetish, which becomes a metaphorically enigmatic intersection between mythology, religion and eroticism.
Tara exhibits her own work alongside curating exhibitions and events and facilitating workshops. She has performed and exhibited her work extensively at multiple exhibitions and events in galleries such as the 504 Arch London, RHA, Project Arts Centre, Mart and the Complex. She is the Co-Founder and Co-Director of the performance and curatorial collective called 4D Space. Her focus as a curator and a facilitator is to develop opportunities in particular for performance art, as she is passionate about the potency and importance of the medium.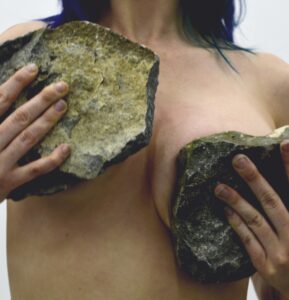 Laura Ní Fhlaibhín is a visual artist from Wexford, working primarily with sculpture, sculptural installations, writing and performance.  Her practice centres on material play and historical research. She completed her Masters Fine Arts from Goldsmiths University London with distinction in August 2019 and graduated from the National College of Art and Design, Dublin in Fine Art Paint. She is the recipient of the Goldsmiths MFA Graduate Almacanatar Studio Bursary Award 2019, Artlinks Bursary, Firestation Sculpture Studio Award, Catalyst Arts Residency and N.C.A.D Graduate Student Bursary.
Selected exhibitions include: MFA Goldsmiths Graduate Show 2019, 'Deptford X, London 2018, Tulca 2018, 'Water jets were used on the four corners of the building', Newington Art Space London 2018, Enclave, London 2018, 'Dodecagon' Seoul 2017, 'Lamellae' The Lab Dublin 2016, 'Precognition', Talbot Gallery Dublin 2014, 'Periodical Review 3', Pallas Projects and Studios 2013.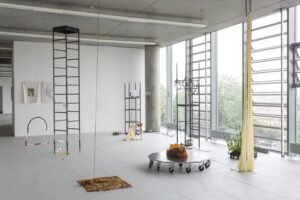 Image: installation view, 'Balm',  Goldsmiths, 2019. Image courtesy of Oskar Proctor
Siobhán O'Callaghan (b. 1992) is an Irish artist, living and working in Dublin. She studied Fine Art and Art History at the National College of Art and Design, Dublin, graduating in 2015 with a First Class Honours degree and High Commendation.
Siobhan grew up the only girl in a household full of athletes. Her parents and siblings are heavily involved in Gaelic Games. An aversion to competitive sports guided her towards the more introspective practices of painting and yoga as a teenager. She completed yoga teacher training in 2015.
This family background and yoga experience has undoubtedly informed the artist's interests and themes within her work. Through her paintings she investigates topics extending from representation and body politics to culture and the every day. An awareness of physicality, the human form, and identity carries through to her studio practice.
Her recent projects delve into ideas of perception, relationships, connection, belonging and otherness. These ideas arise partly in response to personal experience over recent years: graduating from college and leaving the structure of institutional education; relocating to New York and experiencing a sense of displacement; engaging in further art training in an international, intercultural framework. The artist investigates these subjects in relation to personal experience, contemporary society and art history.
The artist's work has featured in a number of exhibitions including Boyle Arts Festival (2015), the RHA Annual Exhibition (2018 and 2019), Rua Red's Winter Open (2018) and the Royal Ulster Academy's Annual Exhibition (2019). She has continued her art education at the Art Students League of New York and Florence Academy of Art.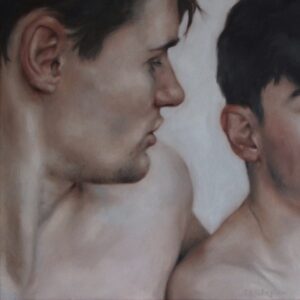 Blaine O'Donnell (b.1986, Northern Ireland) is a Dublin-based artist working in sculpture, painting, writing and moving image. His current body of sculptural work has developed out of diverse research into the materials, technologies and processes of photography.
Exhibitions include six seville, Dublin, ROI (2018),  FOAMING-AT-THE-MOUTH curated by Tracy Hanna and Emer Lynch, Stag's Head, Dublin, ROI (2014), RESORT: A Popular Destination Pallas Projects, Dublin, ROI (2014), PRESENTLY curated by Feargal O'Malley, Millennium Court Arts Centre, Portadown, NI (2014), TOMORROW'S ALMOST OVER curated by Gregory McCartney, VOID, Derry, NI (2013), The 9th Burren Annual curated by Maoliosa Boyle, Burren College of Art, Co. Clare, ROI (2012), SPECTRUM OF ACTIVITY curated by Padraic E.Moore, Black Mariah, Cork, ROI (2011).