Summer School – Global Ecologies Studio
Global Ecologies Studio June 17-July 15, 2023
We will investigate, with a combined science and fine art practice, how our social and earth ecologies coexist and interrelate. We will examine ways anthropogenic influences are shaping large-scale interactions of climate, oceans and the biosphere to define our shared environment. Class meetings will include seminars on the scientific discourse around ecological thought, as well as discussions of contemporary fine art practice by faculty and visiting Irish artists, and local experts of The Burren. Multiple field trips and excursions into the local landscape and cultural surroundings will be an important component of the course. Environmental and social justice, ecological thought, and activism will be central themes.
Students may earn up to six credits on successful completion of the summer school (3 studio, 3 science) 200/300 level.
Evaluation will be based on the following criteria:
Quality of participation and active engagement.
Quality of primary and secondary research including journalling, sketchbooks, creative input, project planning and resolution.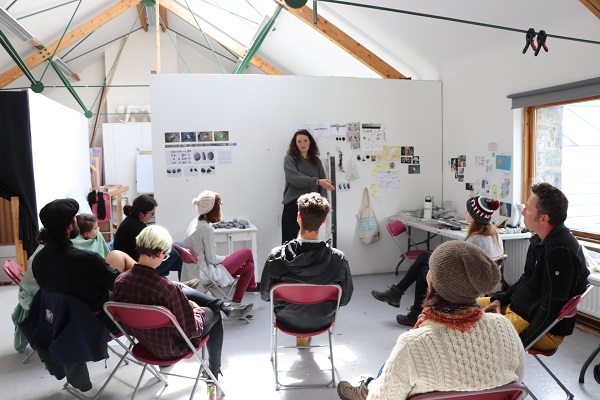 Participating students will have dedicated studio space in order to explore their own creative practice in response to the concepts presented in the class. Students will be expected to read contemporary ecological theory, write, research and articulate their findings and ideas to the class. Student participation will be drawn from a variety of art and design institutions associated with the PALS consortium, a program of the Association of Independent Colleges of Art & Design (AICAD). Students can anticipate an immersive, stimulating, and intellectually enriching experience that fosters critical dialogue and international connectivity while pursuing their own artistic growth.
The course will be co-taught by Hugh Pocock and Tamaru Hunt-Joshi.

Hugh Pocock
Hugh Pocock was born in Aotearoa (New Zealand) and raised in the United States, England and Aotearoa. Working in sculpture, installation, photography and video,  Pocock creates works that explore issues surrounding the earth's natural resources and society's relationship to the production and consumption of energy. Organic materials, such as water, air, salt, wood and earth are the material platforms on which Pocock's work are built. Time, energy, climate change, social connectivity and the Rights of Nature are among the issues Pocock has investigated and continues to explore  Over the past three decades, he has shown his work in Los Angeles, San Francisco, New York, Santa Fe and Baltimore as well as internationally in the former Soviet Union, Germany and China.
Hugh Pocock is a faculty member at MICA and is the founding Coordinator of the Minor in Sustainability and Social Practice and the studio Major titled Ecosystems, Sustainability and Justice.
He is Co-Facilitator of the Global Ecologies Studio taught annually at the Burren College of Art in Ballyvaughan, Ireland.
https://www.hughpocock.com/

Tamaru Hunt-Joshi
Tamaru Hunt-Joshi completed her PhD in Ecology in the Departments of Ecology and Evolutionary Biology and Department of Entomology at Cornell University, Ithaca, NY. Her scientific background focused mainly on Plant Ecology and Entomology with her PhD research investigating the influence of root and leaf feeding herbivorous, biological control insects on a species of European wetland plant (purple loosestrife) that are invasive to North American wetlands.
Her PhD research was mainly field-based as was subsequent research into fungal-plant interactions as post-doctoral fellow at Arizona State University. Tamaru Hunt-Joshi also holds a Master of Science degree from Imperial College of Science and Technology, and a Masters degree from Cornell University. She also has an undergraduate degree in Biology from Southampton University in the UK.
Since moving to Ireland with her family in 2007, she has maintained a strong interest in ecology and the ecosystems along the west coast of Ireland with a particular interest in botany.
Burren College of Art Summer School offers a concentrated individual-centred course of focused and dedicated learning. Set in the historically rich and environmentally unique context of the Burren in the West of Ireland, this programme is designed to assist students develop a cohesive body of visual work. The programme is open to artists and art students, but may also be of interest to individuals with knowledge in the fields of history, archaeology, anthropology, ecology or environmental science. Artistic practice and its creative methodologies will be used as a means to investigate interdisciplinary connections between certain sites and the historical, cultural, social and environmental narratives that frame them. Studio projects will emphasise engagement with assigned topics, with dedicated technical assistance appropriate to each students level and concentration provided.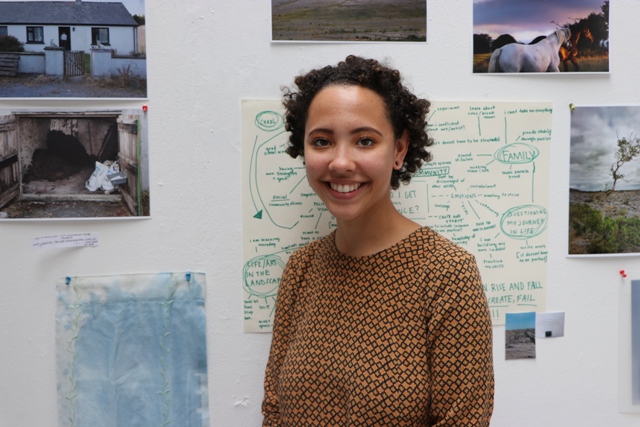 Art + Science: Why Do Both?
What is really unique and enriching about taking a science course in combination with a studio practice is the opportunity you have to make and respond to the scientific content; transforming, translating and situating the science in the cultural sphere, thereby allowing for a different sort of access, interrogation and response. As we consider the social and ecological concerns we face as a society—biodiversity loss, water scarcity, climate change, environmental and social justice—we can incorporate scientific investigation alongside creative research, making, and collaboration with scientists and communities to foster new critical ways to engage and conceptualize the concerns.
Global Ecologies Studio will develop and inform your art practice, supporting you as you become an independent critical thinker and maker surrounded by a peer group of international artists, and connecting you with regional professionals as you gain familiarity with current ecological discourse. You will have access to faculty with expansive experience in teaching in art colleges and with strong professional practices, and be immersed in the fascinating cultural history and the inspiring and scenic beauty of the Burren landscape.