Geometry and patterns in plants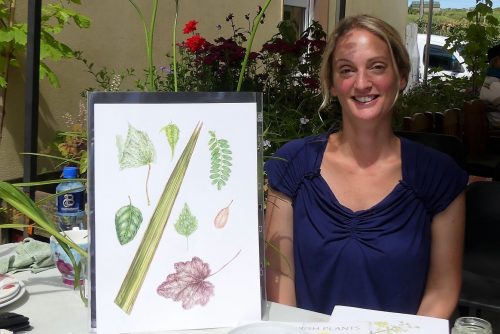 Faculty: Ida Mitrani

This five day workshop is an introduction to the geometry and patterns found in plants. Inspired by the flora of the Burren habitat, the participants will use drawing tools to represent the geometrical shapes and curves that underlie a plant's structure.
The course involves a range of drawing exercises using graphite pencils, pens and watercolour paints to accurately capture the texture of the chosen subject. A series of practical demonstrations will include construction, deconstruction, and measurement of a flower and leaf, while pencil and brush techniques will also be covered.
There will be an emphasis on sketchbook work including observational drawings and colour chart preparation for accurate depiction of the unique plants found in the area. Field trips to the Burren will give students the opportunity to photograph and sketch plant specimens for use in further studio work.
By the end of the course, each student will be expected to create three large scale-drawings portraying the chosen subject as a geometric line drawing, a tonal drawing and a coloured painting.
Tutor bio
Ida Mitrani is a multidisciplinary artist and art educator currently living in the Beara peninsula, in West Cork. She received a First class honours Masters degree in Art and Process from Crawford College of Art and Design in 2021 and a BA in Fine Art from the Institute of Art, Design & Technology Dun Laoghaire in 2003.
Her most recent exhibitions include the 'Woman in the Machine' in Visual Carlow, GOMA, Waterford and in Uillinn, West Cork Arts Centre.
Her work is included in a number of publications and is now part of the public collection in the National Library in Dublin, the National Archives of Ireland and the Arts Office in Dun Laoghaire-Rathdown.
Recent awards include Arts for Health Learning residency supported by Cork County Council and Creative Ireland; the Dublin City Arts Council office residential space 2022.