The Aims of the MFA/MA in Art & Ecology
The MFA/MA in Art & Ecology was launched in 2013 as the first postgraduate degree in this field in Europe. This highly prescient and innovative programme is an interdisciplinary, research-based programme designed for students who wish to develop an ecologically focused artistic practice. Graduate students develop key skills in producing work in studio and field-based contexts, investigate how social and earth ecologies coexist within the unique context of the Burren, and have the opportunity to participate in collaborative or community based initiatives. Students work with BCA's core faculty team alongside environmental scientists and local community based organisations to develop critical enquiry through arts practice. Graduates produce a final exhibition of work engaging the dynamic between ecology and arts practice and demonstrating an embodiment of the social, cultural and theoretical concerns shaping the relationship between contemporary art and ecological thinking.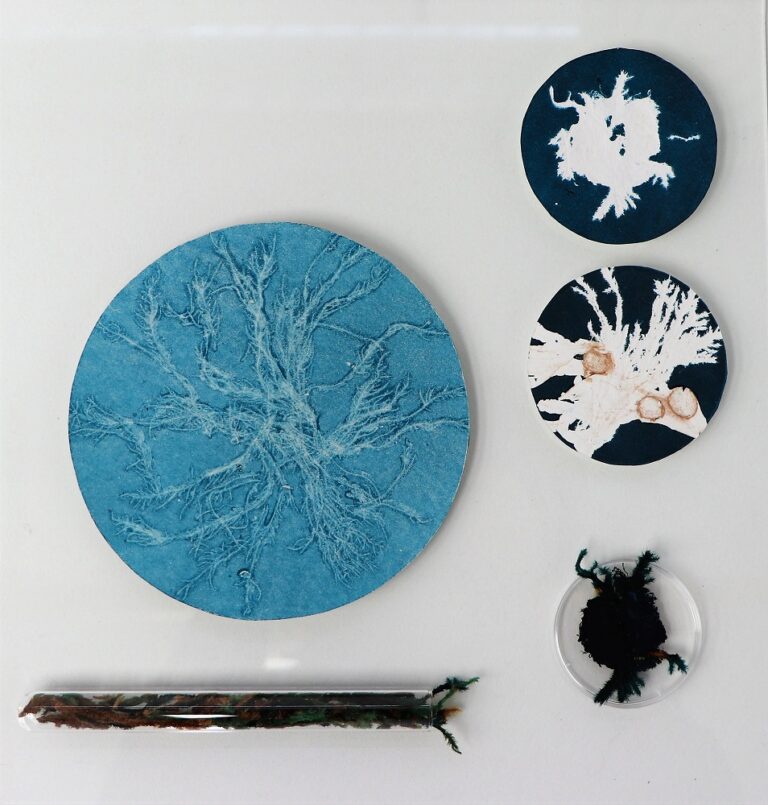 Programme Description and Course Structure
PROGRAM STRUCTURE
Studio Research provides for the development of artistic practice alongside students in the MFA / MA Studio Art. These modules provide for studio and field-based investigation, experimentation and reflection leading to the production of a body of work engaging ecology, earth systems and environmental change. Theory and Art & Ecology engages with historical and contemporary discourse informing arts practice, ecological thinking, activism and the changing global climate.
In the first year an Introduction to Ecosystem Science provides an engagement with ecosystems through lectures and first-hand experience of the Burren. In Ecology and Sustainability in the Burren, the stewardship of the Burren is explored as a microcosm of global ecological and environmental concerns. In this module students work with local conservationists, geologists and archaeologists, though BCA's partnerships with Burren Beo, The Burren and Cliffs of Moher UNESCO Global Geopark, and University of Galway. Additionally, Professional Studies modules, taken alongside the MFA/MA Studio Art students, focus on the development of the professional skills necessary to survive and thrive as a practicing artist.
The MFA in Art & Ecology is a two year programme comprising of 120 ECTS. The MA in Art & Ecology is a one year programme (Sept-August) comprising of 90 ECTS. Please see the Course Structure opposite for an outline of the modules specific to each programme.
PARTNERSHIPS
The MFA/MA in Art & Ecology has established working partnerships with the following academic and community based organisations:
NUI Galway, whose faculty teach into specific modules and lead fieldtrips.
Burren Beo, who host lectures and lead fieldtrips on Place Based Learning and Farming for Nature. Students also participate in the annual Learning Landscapes symposium.
Burren GeoPark, who present lectures and lead fieldtrips focused on Burren geology and the stewardship of this protected landscape.
Course Structure
MFA / MA Art & Ecology
Year 1, Semester 1
Studio Research 1 : Research Methods, Materiality and the Land, 15 ECTS
Theory and Art & Ecology 1 : Land-based Art, 5 ECTS
Environmental Studies 1 : Introduction to Ecosystem Science, 5 ECTS
Professional Studies 1 : Introduction to Professionalism, 5ECTS
Year 1, Semester 2
Studio Research 2 : Refinement/Coherence of Enquiry & Practice,15 ECTS
Theory and Art & Ecology 2 : Socially Engaged Practice, 5 ECTS
Environmental Studies 2 : Ecology and Sustainability in the Burren, 5 ECTS
Professional Studies 2 : Student Selected Project, 5 ECTS
Year 1, Semester 3, Summer Term, For MA in Art & Ecology only
Studio Research Project : The MA Exhibition, 30 ECTS
A studio-based, independent studies module for students seeking to graduate with the award of MA in Art & Ecology.  Students develop a body of work for exhibition supported by a written Artist's Statement.
TOTAL FOR MA IN ART & ECOLOGY : 90 ECTS
Year 2, Semester 3
Studio Research 3 : Engaging Place, 20 ECTS
Theory and Art & Ecology 3 : The Dissertation  5 ECTS
Professional Studies 3 : Organising and Publicising an Exhibition, 5 ECTS
Year 2, Semester 4
Studio Research 4 : The MFA Exhibition, 20 ECTS
Theory and Art & Ecology 4 : The Artist's Statement 5 ECTS
Professional Studies 4 : Exhibition Installation, 5 ECTS
TOTAL FOR MFA IN ART & ECOLOGY : 120
For any further information about the MFA in Art & Ecology or the application process, please contact:
Lisa Newman, Director of Admissions:
E: lisa@burrencollege.ie
T: +353 65 7077200
You can also submit an enquiry through the Contact Form below: