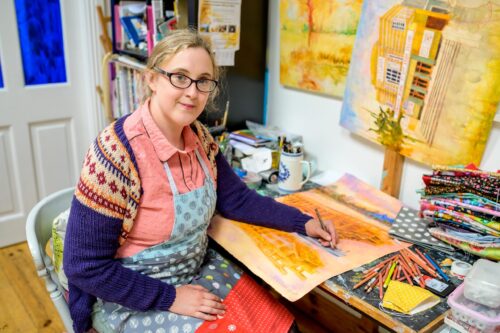 Faculty: Jennifer Cunningham

Dates: 16th – 20th  May 2022

€420
A five-day workshop that explores a variety of approaches to life-drawing. As well as offering a chance to make some traditional studies, this workshop will give you an opportunity to explore the figure through the use of movement, props, music, unusual drawing tools, dramatic lighting, working large-scale as well as challenging yourself with experimental drawing exercises.
Each day will focus on a theme, begin with a rapid-pose warm-up session to loosen up the hand-to-eye coordination, the poses will then build in duration and culminate with one long pose. The sharing of work produced and exchange of feedback among the group will bring the course to a close.
Examples of themes explored: Movement, gesture, speed, dance and humour, the dramatic use of light and dark, the figure within an architectural and imaginary context, positive and negative space, less is more, and the female nude as site of agency rather than passivity.
Tutor Bio
Jennifer Cunningham is a visual artist who works in a wide range of media including paint, printmaking, drawing, model making, film and digital media. Her work is quite figurative in nature and life drawing is an essential part of her practice.
Jennifer has won numerous awards for her work including the Agility Award, Creative Places Tuam Artist Bursary, the Visual Arts Bursary Award, several Galway County and City Artist Bursaries, the Thomas Damann Travel Award and Taylor Art Award. She has undertaken residencies in the Fire Station Artists' Studios, the RHA, the Tyrone Guthrie Centre and SIM Iceland. She has exhibited both nationally and internationally.
Solo shows include "All that Surrounds us" in the Ashford Gallery, R.H.A and "After the Future" in the Galway International Arts Festival (2018) which received over 30,000 visitors and a five-star review in the Irish Times. Theatre projects include videography and set design for "Are you there Una? Mick Lally Theatre (2018, 2019.) and " If walls could talk?" Linen Hall Castlebar 2022 Commissions include poster design for Cúirt (2019) and Galway International Arts Festival (2020 and 2021).
Jennifer greatly enjoys teaching and has extensive experience including lecturing in I.A.D.T for several years and as a visiting artist in N.C.A.D. and G.M.I.T