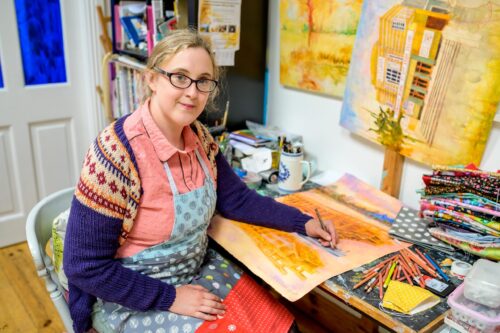 Faculty: Jennifer Cunningham

Dates: 27th – 31st May 2024

€440
In this printmaking course, students are introduced to and explore several different mediums. The course is open to everyone, from those who have never made a print before to those who may be proficient in some forms of print, but would like to try others. It is an intensive, fun workshop and students will be guided through every stage.
We will explore monoprints, monotypes, intaglio printmaking, the use of collage and chinecole to add colour to your work and carborundum printmaking.
Course Structure
Day 1, Theory, what makes a good print, composition and mark making, gathering source material, weather permitting around the Burren college of Art. Drawing and basic photography
Day 2.  Drawing, Monoprints and monotypes. Intaglio printmaking, preparing plates.
Day 3.  Introduction to collographs
Day 4.  Addding colour to your work, through the use of chinecole, collage and paint
Day 5. Resolving work and group discussion.
Tutor Bio
Jennifer Cunningham is a visual artist who works in a wide range of media including paint, printmaking, drawing, model making, film and digital media. Her work is quite figurative in nature and life drawing is an essential part of her practice.
Jennifer has won numerous awards for her work including the Agility Award, Creative Places Tuam Artist Bursary, the Visual Arts Bursary Award, several Galway County and City Artist Bursaries, the Thomas Damann Travel Award and Taylor Art Award. She has undertaken residencies in the Fire Station Artists' Studios, the RHA, the Tyrone Guthrie Centre and SIM Iceland. She has exhibited both nationally and internationally.
Solo shows include "All that Surrounds us" in the Ashford Gallery, R.H.A and "After the Future" in the Galway International Arts Festival (2018). Theatre projects include videography and set design for "Are you there Una? Mick Lally Theatre (2018, 2019) and " If walls could talk?" Linen Hall Castlebar 2022.
Jennifer greatly enjoys teaching and has extensive experience including lecturing in I.A.D.T for several years and as a visiting artist in N.C.A.D. and G.M.I.T