Cancelation: in light of the uncertainty brought on by the coronavirus pandemic, we have decided to cancel all May workshops. Please contact julia@burrencollege.ie if you have any questions.

It's been our tradition every year at the Burren College of Art to try offer a broad palette of summer workshops, to suit as many tastes and preferences. In fact, for a good number of years, a May session has been complementing the August round, by allowing people from far and wide to also enjoy the Burren at the beginning of the summer, at its best, when the landscape blooms while the colors and the light entwine to make it magic.
Following this tradition, the summer of 2020 will bring back most loved workshops with Rita Wobbe, Trevor Geoghegan, prof Timothy Emlyn Jones and Conor McGrady.  Ruby Wallis will teach you How to take stunning photographs in August, while Ida Mitrani will give delicate instructions on the geometry of plants in her Burren botanical drawing course.
Printmaking with Jane Glynn and bookmaking with Eilis Murphy are two new offerings in May and August and we are delighted to welcome both on board to share their expertise and wisdom with their audience.
Most of all, we look forward to welcoming you – back or for the first time – into a friendly and creative space, where experienced tutors will teach you in professional artist studios with access 24 hours and where  meeting like-minded peers may ignite new and longstanding friendships.
Whether it's abstract or landscape painting, botanical or experimental drawing, photography, printmaking or bookmaking you like, take that leap into the Burren to bring a piece of it back home with you: your own artwork!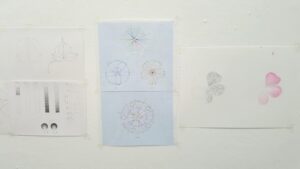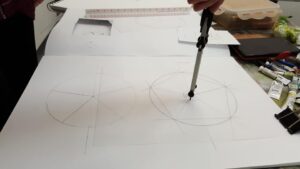 List of May Workshops
Walking, painting and the Burren
Printmaking in the Burren
by Jane Glynn
11th – 15th May 2020
Burren botanical drawing
by Ida Mitrani
11th – 15th May 2020
How to use your eyes
by prof Timothy Emlyn Jones
11th – 15th May 2020
PLEASE NOTE: Once you've submitted your application, you should immediately see an acknowledgement page confirming the submission.  If you do not see this, please contact Julia Long at julia@burrencollege.ie to make sure your application has been received by the College.
Our self-catering college accommodation offers 11 rooms in the Lodge and 4 bedrooms in the adjacent bungalow. Single occupancy is charged at €45 per night. Please inquire separately for twin or double occupancy.
The Lodge is set on extensive grounds with inspiring views of the Burren and is a pleasant 10 minute walk from the College and 35 minutes from Ballyvaughan village. The bedrooms are bright and well appointed. Communal areas include a large living room with an open fire, dining room, TV area, well-equipped kitchen, laundry and public washrooms. A patio area with chimney is an ideal outdoor summer gathering space. The Lodge has WiFi throughout and has wheelchair accessible rooms available.
The Bungalow is adjacent to the Lodge and has 2 en suite double bedrooms and 2 single rooms with a shared full bathroom. The house also has a spacious communal area and cozy sitting room, along with a fully equipped kitchen and laundry facilities.
Alternative options are available in various guesthouses and hotels throughout Ballyvaughan.
For further information, please go to www.discoverballyvaughan.com or contact julia@burrencollege.ie for our accommodation list.
All tuition and fees are due at least 4 weeks before the start of the programme. The Burren College of Art accepts no obligation to refund any fee or part of after this date.