Covid-19 Health & Safety Measures GES
Burren College of Art's top priority is the safety and wellbeing of our college community. We are closely monitoring the evolving situation and will respond as needed following the information given by the Irish Government, the Health Service Executive and travel advice from the World Health Organization.

While the rural location of Burren College of Art makes it a relatively safe place to be, additional safety measures have been implemented on campus and in our accommodation, to ensure the safety of our college community.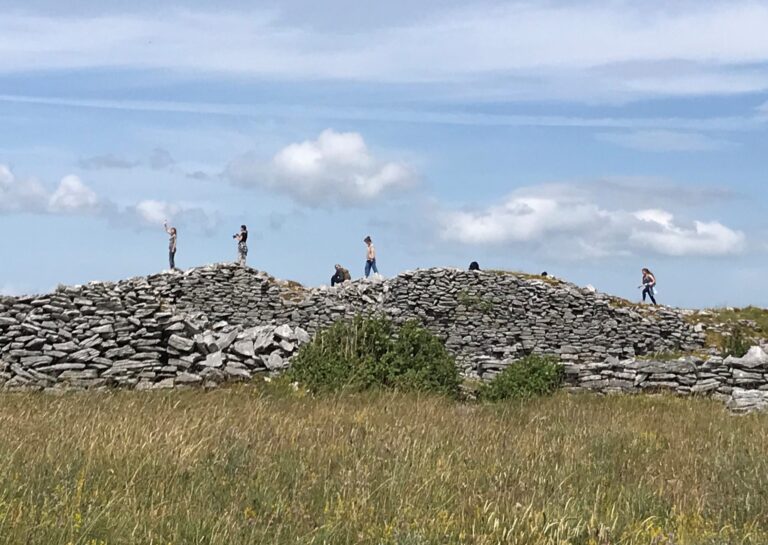 The following standard health and safety measures are in place following HSE recommendations:
Thorough and regular handwashing while on campus as well as using hand sanitizers provided
Observe good cough and sneeze etiquette
Maintain a 2-metre social distance from other people
Mandatory wearing of a face covering on campus at all times except when working in studios individually.
Additional health and safety measures implemented in order to prevent the spread of Covid-19:
Hand sanitizing points on the college mini-bus and at various locations throughout the campus
Spacious studios (4m x 4m) to enable 2 m social distancing
Reduced capacity and staggered mealtimes in college café to enable social distancing
Reduced seating in lecture theater and other teaching spaces on campus
Designated area for isolation should a suspected case of COVID-19 arise
Supply of PPE available, if required, on campus
Regular communication in relation to health and safety advice between staff and students
Regular, daily cleaning and sanitizing of all public area surfaces on campus
Campus and college housing
Our campus design is spacious, dispersed and naturally suited to implementing required social distancing protocols for staff and students. Further restrictions are in place on the number of students, faculty and residents that can be present in workshops/darkroom/library/communal areas at any one time.
College housing
Social distancing rules and health & safety protocols have also been applied in our BCA housing.
Sanitizing points are available in all our college housing. Similar provisions will be made for third party accommodation
An additional accommodation facility is available for isolation, where a student or faculty member can isolate should they display covid-19 symptoms while on campus
Before arriving in Ireland, students and faculty are required to agree on following  our safety measures on campus and in the college housing and also to complete and sign the Covid-19 declaration form below.
For further information and inquiries, please email lisa@burrencollege.ie